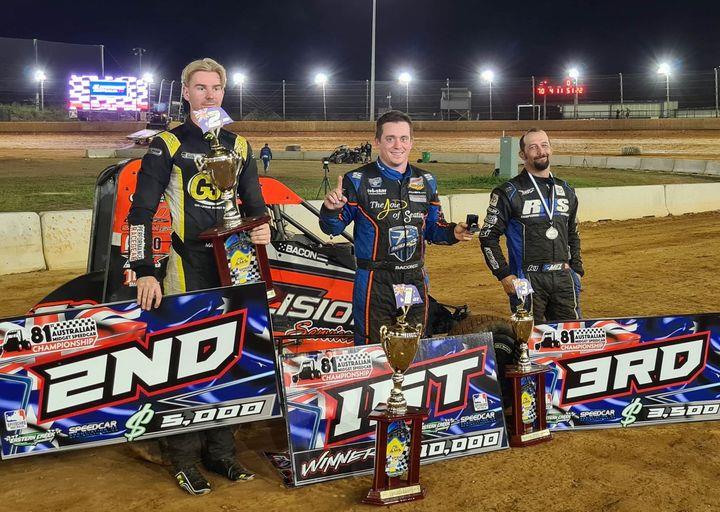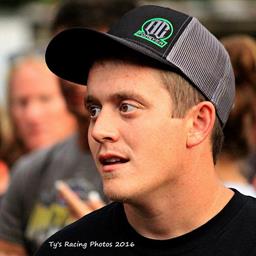 ---
Bacon Sizzles to National Midget Crown
Oklahoma's Brady Bacon joined a small, but elite, group of international racers to have prevailed in one of Australia's most time-honoured events when he dominated the 40-lap feature race to win the 81st Australian Midget Championship at Eastern Creek Speedway on Saturday night (March 4). Having qualified on pole position, Bacon led all but three laps of the championship finale to secure his place in the history books as the eighth American to win this prestigious event and the first driver ever to win a national championship event at the new Sydney circuit. On a track that drew universal praise from competitors, Western Australia's Kaiden Manders pounced at a restart to assume the lead momentarily mid-race, but it wasn't long before order was restored and Bacon was back in control, leaving Manders to fill the runner-up position ahead of another American in Thomas Meseraull, who charged from eleventh to secure his place on the podium. Michael Stewart again proved the best of the locals in fourth, with Queensland's Scott Farmer scoring fifth ahead of Nick Parker, Jack McCarthy, Michael Kendall, Mitch Brien and Tim Devine.
The second night of competition got underway with McCarthy withstanding all sorts of pressure from Bacon to win heat nine, with overnight points leader Kaidon Brown home in third spot.
Former titleholder Nathan Smee saw his championship campaign ended courtesy of a spin from Brad Dawson in turn one on the opening lap of heat ten. The ensuing pile-up saw Smee pinball off Dawson before rolling and coming to rest in a perpendicular, and somewhat precarious, position. Tasmania's Mitchell Freeman and local legend Troy Jenkins were also caught up in the chaos, confining both to the B Main. Once the track was cleared, Kendall led throughout to defeat Meseraull, Stewart and Hayden Williams.
Kiwi gun Kaleb Currie clinched heat eleven in a narrow result over Manders, who advanced from sixth, with Devine besting fellow Queenslanders Harry Stewart and Charlie Brown for third.
A substantial oil leak late in the race failed to prevent Troy Ware from securing maximum points in heat 12, leading home Mitch Brien and Travis Mills.
Starting from row two, Bacon faced little resistance in assuming the lead on the opening lap of heat 13, racing away to leave Stewart more than three seconds adrift at the chequer. Meseraull crossed third but was subsequently disqualified for failing to attend the scales, a decision that elevated Williams into the position and sent the Californian tumbling out of the top ten.
Charlie Brown set the early pace in heat 14 before finding himself unable to repel the challenge from Currie when it came on lap six, with Kendall home third.
Jackson and Manders engaged in a terrific scrap for the lead in heat 15 before ultimately finishing in that order, with Travis Mills neither troubling the lead pair nor facing any real threat to his third place.
Farmer proved too fast in the final heat of the weekend, finishing more than four seconds clear of Kaidon Brown and Nick Parker.
Presented by Dennis Newlyn's Speedway Classics, the Pole Shuffle saw Stewart make some progress in the early rounds with wins over Farmer and Kendall before falling to Manders, whose disqualification from the next round for a starting infringement would see Jackson advance to take on Bacon. Having disposed of Jackson, next up for Bacon was Kaidon Brown, who was deemed at fault when contact between the pair sent both of them into a spin in turn two, advancing Bacon into a best-of-three showdown with Currie for pole position. The finale was somewhat anti-climactic with Bacon easily accounting for Currie to grab the $500 cash bonus.
With Williams and Jenkins locking up the top two spots, all interest in the B Main centred around the scrap for the remaining transfer positions, a fight that was decided in somewhat unceremonious circumstances when Freeman, who was running fourth prior to a late-race restart, found himself shuffled back to seventh on the final lap. Desperate to make the main event, Freeman lunged under Jamie Hall in turn three and the ensuing contact sent Hall into a spin and allowed 16-year-old rookie Zoe Pearce to leapfrog them both and land in fifth, seemingly one shot shy of a feature race berth, only to be granted a start in the main event when Williams opted against taking his place in the field.
With introductions out of the way, 24 cars gridded for the 2022/2023 Australian Midget Championship feature race and it was Bacon who led the charge into turn one ahead of Currie and Jackson, who soon found himself under attack from Brown, Manders and Stewart. The first interruption came on lap 11 when Geering spun in turn two and it wasn't until lap 24 that proceedings were halted again, this time as a result of a spin from Brien in turn one. Things got very interesting very quickly following the restart though, with Currie lasting just three laps before a flat right rear tyre saw his championship challenge capitulate, bringing about another restart with Manders now in second spot, having disposed of Brown, Stewart and Jackson. At the green, Manders gazumped Bacon to grab the lead, with Meseraull now entrenched in the top five, having started on row six. Bacon seemed content to follow Manders for a few laps before reasserting his authority and retaking the lead on lap 30. When contact between Jackson and Ware necessitated a final restart with five laps remaining, a flat tyre would send Brown to the infield and elevate Stewart into third. Through the final laps, Bacon remained rock solid at the front of the parade and would go forth to give car owner Gavin Ohlback his second consecutive win in the event. Manders made the long haul from WA somewhat worthwhile with a sensational second-place result, while Stewart and Meseraull would swap third before the latter ultimately prevailed. Farmer, Parker, McCarthy Kendall and Brien were next in line, with Devine performing particularly well to complete the top ten in his debut on the big stage. Jenkins, Daniel Paterson, Justin Watt and Pearce were the remaining finishers.
Back to News