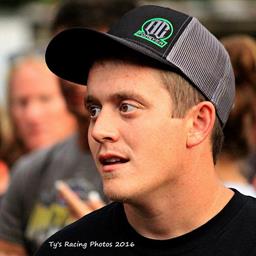 ---
Brady Bacon Earns Rookie of the Year Honors at the 73rd Payless Little 500
Speed Sport- Making his first pavement start in 12 years, Brady Bacon earned Rookie of the Year honors at the 73rd running of the Pay Less Little 500!
Bacon started 20th in the 33-car field Saturday at Anderson Speedway and was credited with a 9th place finish in the Hoffman Auto Racing entry.
"It was certainly different," he said of his first Little 500 race. "I don't think we came quite as prepared as I would have liked to. This is a brand new car and the weather didn't cooperate when we were testing."
Bacon said as the race went on he got more comfortable as the race thinned out.
"A unique experience and really fun," he said of the event. "It's an awesome atmosphere. Not many super special races like this that we go to."
Bacon tipped that the team will make improvements and return in 2022.
"I would say my plans are to come back," he said.
"
---
Submitted By: Xia Xianna Baker
Back to News