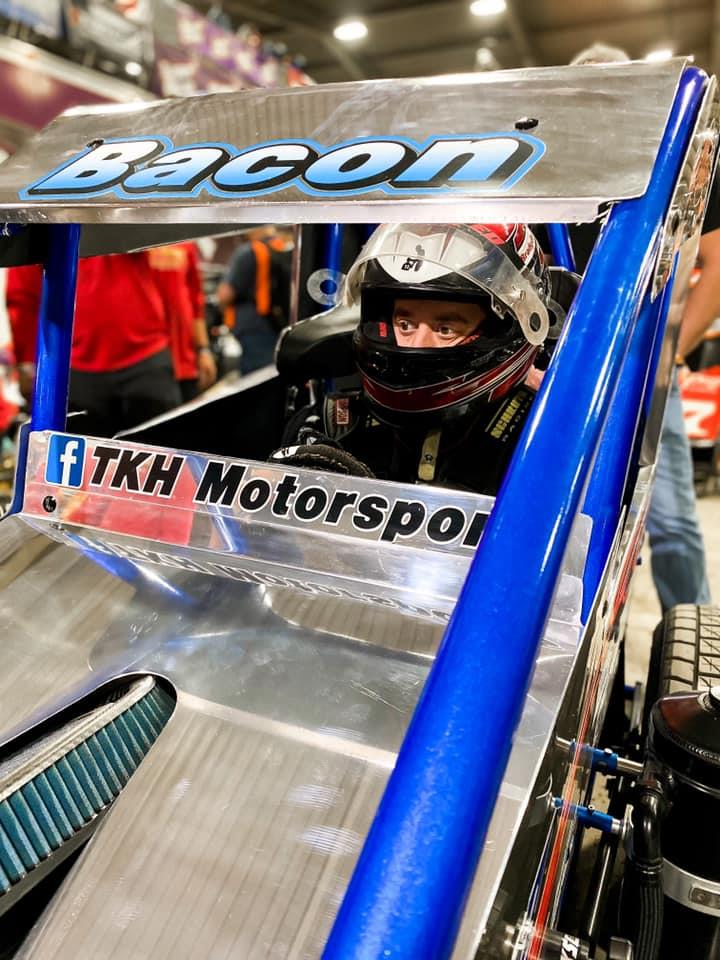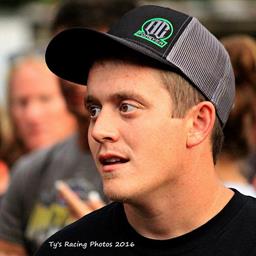 ---
Bacon Opens Chili Bowl Effort with Podium Finish!
Lonnie Wheatley, TULSA, Okla. (January 15, 2021) – With eyes fixated upon that coveted Golden Driller trophy, Brady Bacon put himself in strong position by racing to a strong third-place finish in Thursday night's John Christner Trucking preliminary event at Tulsa Expo Raceway's 35th Annual Lucas Oil Chili Bowl Midget Nationals.
With the strong outing, Bacon puts himself in prime position to land a fourth-career starting berth in Saturday night's 55-lap Chili Bowl Nationals championship "A" Main event and first since racing to a fourth-place finish 2019.
Following a Tuesday night run of sixth-place in the Vacuworx Invitational Race of Champions aboard Kelly Hinck's SR-11x-powered Dahmer Powertrain/Fatheadz/FK Indy/Elliott's Trailers No. 21h Triple-X machine, Bacon drew the eighth and final starting position for Thursday night's seventh heat race.
"The Macho Man" wasn't deterred, methodically picking his way through the field before making a dramatic last corner pass on the high side exiting turn four that brought the crowd to its feet as he snared the win.
"I really didn't know it was the last lap, I knew we were in pretty good shape but I thought I would go to the top and try to get another spot," Bacon commented afterward.
Sitting atop the passing point charts after the heat races, Bacon made his way from sixth to third in his qualifier to secure the front row outside starting position for the 30-lap "A" Main.
Bacon battled amongst the top-four throughout before making a move in the final ten circuits to secure the show position for the night that will put him no worse than third in Saturday's "B" Main action that will transfer seven to the main event.
"We should be in good shape, we'll make some more adjustments but we're pretty happy with this Triple-X and hopefully we have the same kind of results we have with our Triple-X Sprint Car," the reigning three-time and USAC National Sprint Car champion explained. "We're here to have fun and do the basics right and it should take care of itself after that."
After a third career podium finish in Chili Bowl preliminary competition following runner-up finishes in both 2013 and 2019, Bacon gets a day of rest on Friday before going after that Golden Driller on Saturday night.
Brady Bacon Racing is bolstered by the support of partners including Hoffman Auto Racing, Fatheadz Eyewear, Champion Oil, Gene Franckowiak, Drivewfx.com, Elliott's Custom Trailers, ATC Trailers, Tel-Star Technologies, Dragonfly Aviation, Lykins Oil, Triple X Race Co., Hoosier Tire, XYZ Machine, Heath Clips Lawn Care, FK Indy, Engler Machine and Tool, FK Rod Ends, Specialty Rigging, Keizer Wheels, Purple Heart Foundation, Brown and Miller Racing Solutions, Smiley's Racing Products, R&R Enterprises, DMI, ProGlide Coatings, Chalk Stixx, Wilwood Engineering, Lajoie Seats, Smith Precision Products, Allstar Performance, Simpson Racing Products, MyRacePass, Schroth Racing, Saldana Racing Products, KSE Racing Products, King Racing Products and Schoenfeld Headers.
Keep Track: Keep track of Brady Bacon's on-track action including schedule and results at http://www.bradybaconracing.com/, on Facebook at https://www.facebook.com/Brady-Bacon-278125555137/ and on Twitter at https://twitter.com/BradyBaconRacin.
If you would like Brady Bacon Racing press releases e-mailed directly to you, send your e-mail address to Lonnie Wheatley at lonniewheatley@gmail.com.
---
Article Credit: Lonnie Wheatley
Back to News