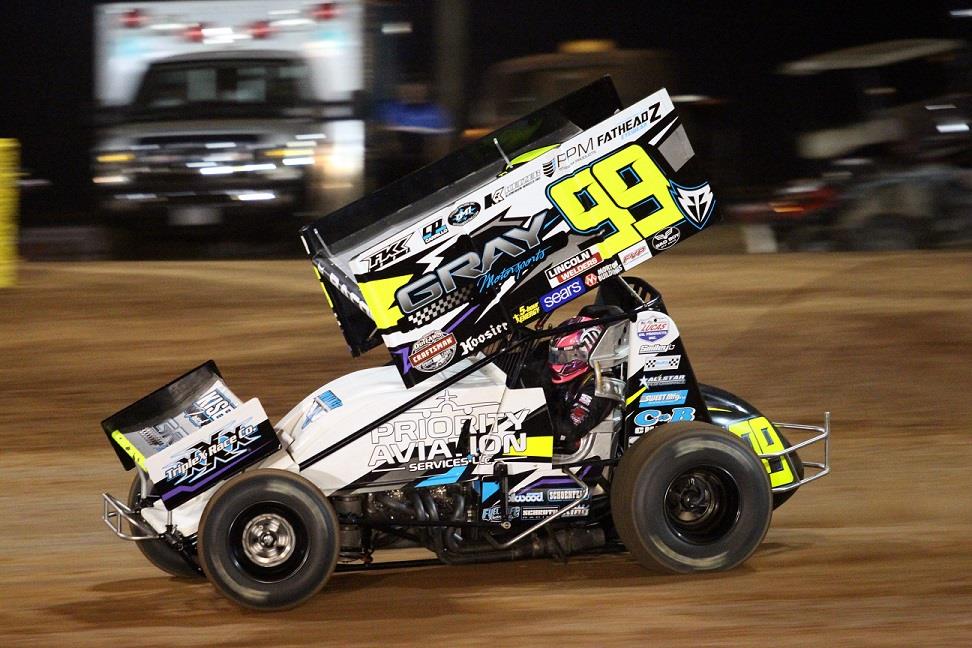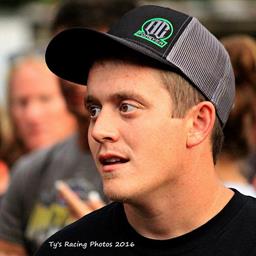 ---
Brady Bacon – From the Queen City to Queen Creek!
Brady Bacon – From the Queen City to Queen Creek!
(Bill W) November 1, 2016 – The Brady Bacon Racing #99 team can call their debut at The World Finals in Charlotte, North Carolina a success. The Broken Arrow, Oklahoma driver came from row nine to a 12th place finish in Saturday's finale with the World of Outlaws. It finished off a successful 2016 campaign as far as the wing car goes for Brady. This weekend, the USAC National Sprint Car points leader will return to competition with that series at Arizona Speedway near Queen Creek.
This marked Brady's first time at The World Finals. Thursday meant timing in for both Friday and Saturday programs. He timed in 14th quick for Friday, and fifth quick for Saturday. "It's definitely tough, especially when you've never been there before," he says. "You have a different format, and you don't know how the track is going to wear with that number of cars. Our inexperience hurt us a little bit. We were just a little free in the first set, and we were a little tight in the second set. Without a full night to get your car dialed in, you are basing your second night of qualifying off of four laps. It was pretty difficult, but I thought we came through pretty well. We had the speed, but with the competition there, it gets tight. We wouldn't have had to change very much to get a lot better."
He would finish fifth in both his heats. Friday's format saw six heats, while Saturday, there were four. "We had a fast car," says Brady. "The heats were pretty tough to pass both nights. We didn't get a good start in either one of them, which hurt us. It was just a part of it. You put yourself in those spots."
Brady started in row six in Friday's B and fell one spot short of transferring to the feature. "We had a really good car," he says. "We were able to fight from twelfth to get to a transfer spot in sixth. We had a yellow on the last lap and went green, white, checker. We were a little tight, and lost that one spot. Without that, we would have made both shows, which for a team the size of mine, would have been a great accomplishment."
The four-heat format Saturday meant he would start 17th in the finale. "I thought we had a really competitive car," says Brady. "Starting in the back with the fast guys that are there is tough. We were going up through there pretty well. We got bottled up on a restart and some guys were jumping back there. It put me in a bad spot and I lost some ground. I spent the whole race trying to get those spots back. We had a car capable of coming through there and making some passes. With a better starting position, I believe we could have ran with the guys up front. We were getting better and better as the race went on."
Brady has shown consistency running the wing car this year, capturing a MOWA win in Granite City and running well with the Outlaws, peaking with a second place finish in Haubstadt, Indiana. "Our weakness in these races has been just not racing the 410 wing stuff enough," he says. "Hopefully, we can do it a little bit more next year. We've been in contention to make the Dash and start up front at a lot of these Outlaw shows. In the non-Outlaw shows, we've been in position to win. We're not worried about just making the shows anymore like we used to be."
A big part of the trip to Charlotte for Brady was visiting Gray Motorsports. "We made some big strides, and Gray Motorsports supplying our engine has been a big part of that," he says. "It's opened my eyes to what needs to be done, and what you have to have. We're going to work on getting that taken care of in the offseason. Usually, the only time you get to see people like Gray Motorsports is at the PRI show. It was cool to see everyone in a more normal environment down there. It was worth the trip to see them and see what this race was all about."
Brady and his wife Xia Xianna are expecting their second child in December, but he is taking no chances. The trip west reminds him of when his daughter Levany was born a little early on their trip west two years ago. "I'm looking forward to racing out there," he says. "But I'm taking pretty much the last flight out and the first one back to make sure I'm home when the baby comes!"
Follow Brady on his Website, Twitter and Facebook!
Follow Brady at his website located at www.BradyBaconRacing.com! Also keep up with him on Facebook and Twitter (which also can be accessed at the website) at the following links…
Twitter Link – http://twitter.com/BradyBacon
Facebook Link - www.facebook.com/pages/Brady-Bacon-Racing/278125555137
Partner of the Week – Fatheadz Eyewear
Made especially for larger heads, extra wide to fit even the biggest heads, Fatheadz Eyewear is a leader in the industry. Whether you need sunglasses or prescription eyewear, Fatheadz has a variety of frames to choose from. Buy oversize Fatheadz sunglasses online at www.Fatheadz.com and save!
Associate Marketing Partner of the Week – King Racing Products
King Racing Products are Outlaw proven and American Made. They are located in Visalia, California and offer anything you need for your sprint car. Call them toll free at 1-866-209-8544 or take a look at their catalog at www.KingRacingProducts.com!
Brady Bacon Racing would like the following sponsors for all their help: Fatheadz Eyewear, Viper Risk Management Group, Triple X Race Co., Tel-Star Technologies, PPM Titanium Products, KTA Kiser's Truck and Auto (formerly Sham's Garage), Heath Clips Lawn Care, Chubby from CnB Mushroom Farms, Lucas Oil Products, Factory Kahne, FK Indy, Lightning Wings, CP Carrillo, Keizer Wheels, Smiley's Racing Products, Eaton Industrial Coatings, Sweet Mfg., Butlerbuilt Seats, Brown and Miller Racing Solutions, Proglide Coatings, Diversified Machine Inc., Fuel Safe, Allstar Performance, Simpson, Octane Ink, Schroth Racing, Wilwood, King Racing Products and Schoenfeld Headers.
The Hoffman/Dynamic, Inc. #69 sprinter is sponsored by Mean Green, Mopar, Triple X Race Components, Hoosier, DMI, Lykins, Engler Machine & Tool, Goodridge Fluid Transfer Systems, KSE, MPD Racing, CSI Shocks, XYZ Machining, Saldana Racing Products, Fuel Safe Racing Cells, Fastener Specialty Motorsports, Wilwood Brakes, Joe Gibbs Driven Racing Oil, Zemco Headers, Chalk Racing Products and Weld.
Photo: Brady in action at the World Finals (Jeremy Elliott Photo)
Bill W Media
Monroe, IA USA
Twitter: @BillWMedia
e-mail: sprntcar@hotmail.com
website: www.OpenWheel101.com
Back to News