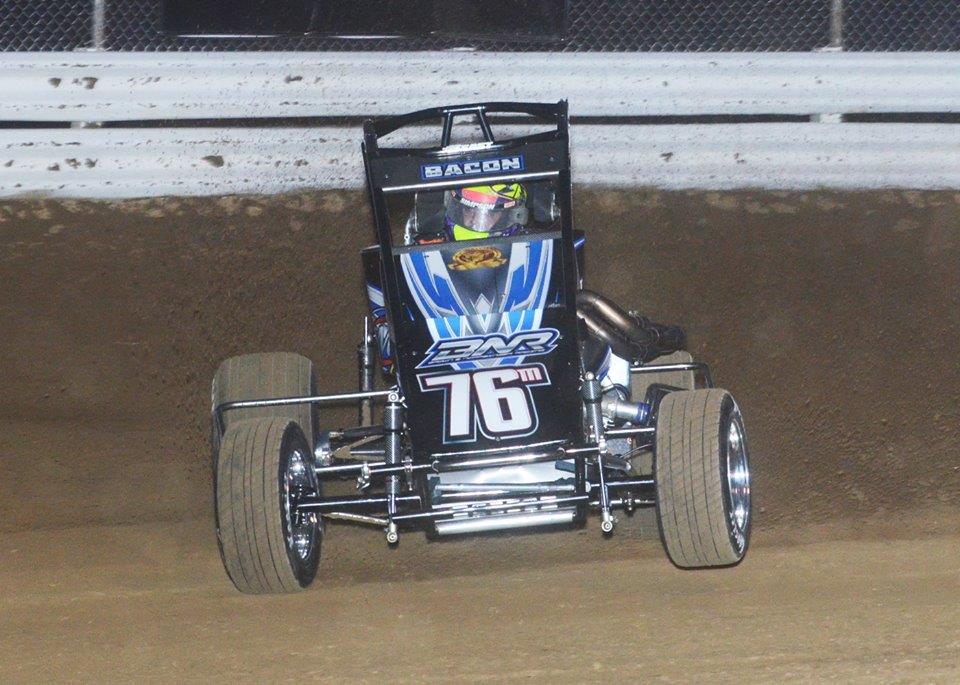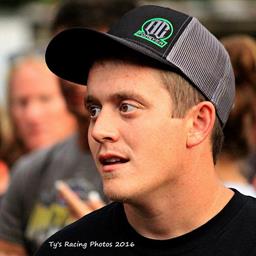 ---
Brady Bacon – New Combination Fast at Leffler!
Brady Bacon – New Combination Fast at Leffler!
(Bill W) October 26, 2015 – Brady Bacon made his first start in Frank Manafort's #76M midget last Friday night a good one. In his first start with the team, he drove from 12th to finish sixth in the loaded $20,000 to win Jason Leffler Memorial feature at Wayne County Speedway in Wayne City, Illinois. The Broken Arrow, Oklahoma driver will take a weekend off before driving the Josh Ford #73 non-wing 360 in the $10,000 to win Richard Griffin Classic at Southern New Mexico Speedway in Las Cruces November 5-7.
Brady would draw the pole for his heat race on Friday. "That's not an ideal place to be with 50 plus cars using passing points," he says. "We had an issue with a bleeder. That made the car tight after a late caution. We lost a couple spots, and finished third."
Behind the 8-ball in points, he would come back well in his Qualifier, where he would start sixth. "We were really good in the qualifier," says Brady. "They were taking four and we got up to third. That was a good deal."
The result saw Brady starting twelfth in the feature. "It was a pretty racy track, but with the caliber of cars, it was tough to gain ground," he says. "You just had to keep picking away at it. We were able to get up to sixth. There was a time when I got hung up behind a lapped car and lost a few spots. It took a while to gain those back."
Overall, he was very happy with the team's performance. "We were fast all night, and had the fastest lap in the feature," says Brady. "It was our first night out in the car, and they usually just race the Chili Bowl. It was a new car, new driver and new team. We were really good for the first night out. We needed a couple little things to go right, and we could have been up front."
The team is managed by Brad Noffsinger, and they plan on racing one more night before January's Chili Bowl. "We're going to run it at Turkey Night (Thanksgiving at Perris Auto Speedway in California) and then at the Chili Bowl," says Brady. "I'm really excited to run it again. It's very encouraging to be fast right out of the box."
Follow Brady on his Website, Twitter and Facebook!
Follow Brady at his website located at www.BradyBaconRacing.com! Also keep up with him on Facebook and Twitter (which also can be accessed at the website) at the following links…
Twitter Link – http://twitter.com/BradyBacon
Facebook Link - www.facebook.com/pages/Brady-Bacon-Racing/278125555137
Partner of the Week – Heath Clips Lawn Care
Call Heath Clips Lawn Care in St. Charles, Missouri for all your lawn needs! Call them today at (636) 299-3092!
Associate Marketing Partner of the Week – Smiley's Race Products
Smileys Racing Products and Hoosier Tire Southwest have been in the racing business for 30 years in the Dallas, Fort Worth area. Visit Smiley's, either in Kennedale, at the showroom store in Mesquite, or at the racetracks. All employees at Smiley's Racing Products and Hoosier Tire Southwest are directly involved with race teams either as owners, drivers, pit crew members etc. What this means to you our customers is racing advice that has been tested on the track first, and then they pass their findings on to the customer. From parts and tires to complete race cars, Smiley's Racing Products and Hoosier Tire Southwest is ready to help you get to the checkered flag first. All aspects of their business can be seen at www.SmileysRacing.com. Click on catalog and put your information in and you will be sent a catalog free of charge.
Brady Bacon Racing would like the following sponsors for all their help: Print Place, Fatheadz Eyewear, Triple X Race Co., Tel-Star Technologies, PPM Titanium Products, KTA Kiser's Truck and Auto (formerly Sham's Garage), Heath Clips Lawn Care, Chubby from CnB Mushroom Farms, Lucas Oil Products, Lightning Wings, CP Carrillo, Keizer Wheels, Smiley's Racing Products, Eaton Industrial Coatings, Sweet Mfg., Butlerbuilt Seats, Brown and Miller Racing Solutions, Proglide Coatings, Diversified Machine Inc., Fuel Safe, Allstar Performance, Simpson, Octane Ink, Schroth Racing, Wilwood, King Racing Products and Schoenfeld Headers.
The Hoffman #69 sprinter is sponsored by Mean Green, Mopar, Triple X Race Components, Hoosier, DMI, Lykins, Engler Machine & Tool, Goodridge Fluid Transfer Systems, KSE, MPD Racing, CSI Shocks, XYZ Machining, Saldana Racing Products, Fuel Safe Racing Cells, Fastener Specialty Motorsports, Wilwood Brakes, Joe Gibbs Driven Racing Oil, Zemco Headers, Chalk Racing Products and Weld.
Photo: Brady races at Wayne County Speedway (John Potter Photo)
Bill W Media
Monroe, IA USA
Twitter: @BillWMedia
e-mail: sprntcar@hotmail.com
Back to News