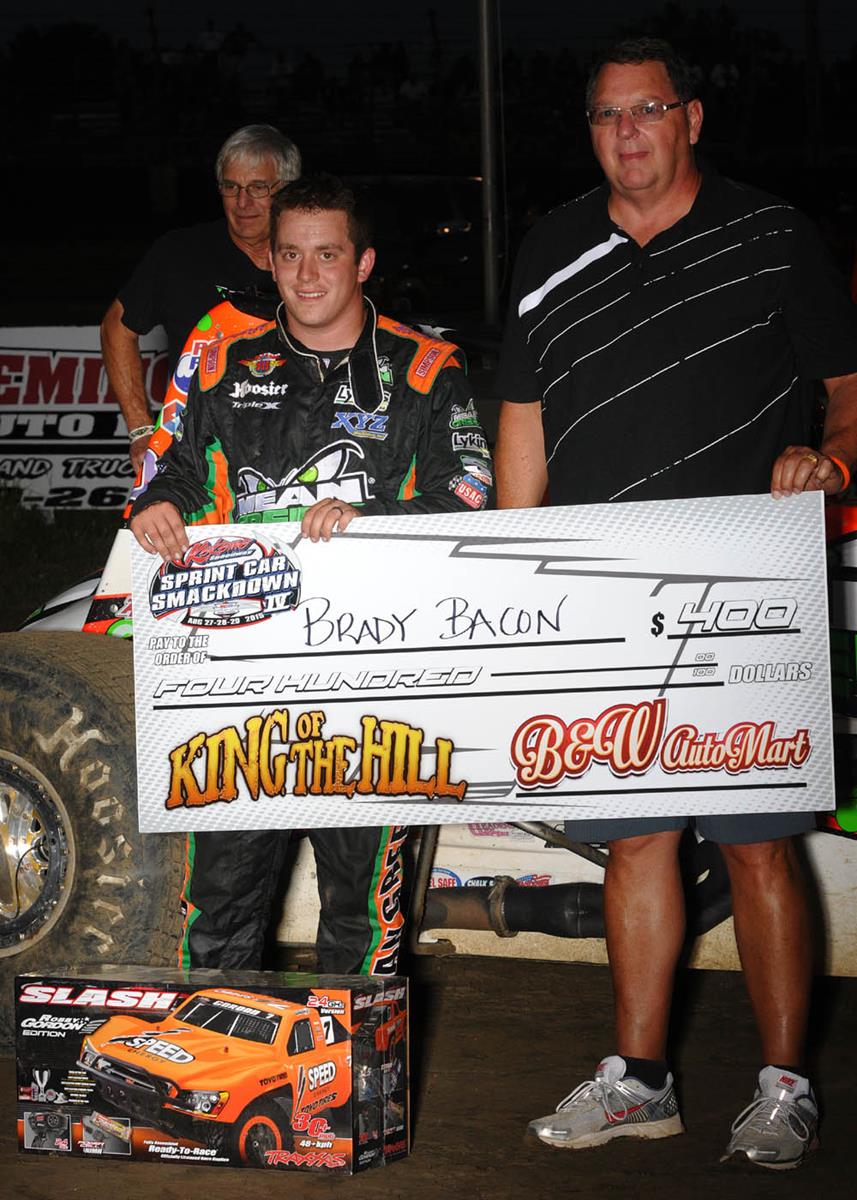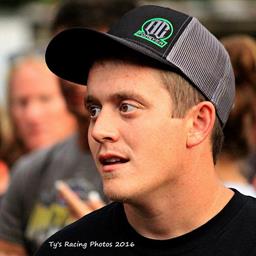 ---
Brady Bacon – "King of the Hill"/Two Podiums at Kokomo!
Brady Bacon – "King of the Hill"/Two Podiums at Kokomo!
(Bill W) September 1, 2015 – Four nights of racing at Kokomo Speedway had Indiana USAC fans buzzing. At the end of the weekend, Brady Bacon and the Hoffman Racing #69 team had a pair of podium finishes and a "King of the Hill" Match Race win under their belts. This weekend finds Brady at three different tracks in four different genres of racing. Friday, he'll race with the MOWA 410 winged sprints in Granite City, Illinois before flying to Calistoga, California on Saturday. There, he'll compete in Josh Ford's #73 in both USAC/CRA non-wing sprint action and in a midget at the Louie Vermeil Classic. He'll return to Illinois Sunday to race in the USAC Silver Crown "Ted Horn 100" in DuQuoin on the "Magic Mile".
Last Wednesday, Kokomo made up their Indiana Sprintweek show. Brady had already qualified third and finished second in his heat in July. "We were pretty good," he says. "The track was pretty heavy. Without running half the show, it's hard to guess what the track is going to be like. We had a good car. We kind of got strung out there a little bit and ended up third."
The "Kokomo Smackdown" began on Thursday. "We drew a pretty late pill and went sixth quick," says Brady. "The good thing about Kokomo is you can overcome a bad draw. I think we ran third in the heat race."
That would put Brady on the front row for the feature. "I fell back a little bit at the start," he says. "We were able to fight our way back to third at the end. The track was a lot different this week than what we're used to at Kokomo. There was a huge curb and it was lower on the track. It was biting a lot of people. To go well on the cushion at Kokomo, it needs to be up on the banking, but it was below the banking."
He would time in twelfth quick on Friday. "I just really didn't get a clean lap," says Brady. "It was a little slicker, and I just didn't pull off that good a lap. Still after finishing second in the heat with all the drivers that didn't make it, we were only one spot from starting the feature on the pole."
Starting back in the pack a bit, Brady would maintain. "We couldn't get much going," he says. "We would gain ground and then lose some. We ended up seventh. It was kind of a mediocre night. Still, we were second in points going into Saturday."
Brady's point standing put him in the "King of the Hill" match races. Three laps one-on-one determined the winner. He defeated Thomas Meseraull and Dave Darland before facing Chase Stockon in the finals. "We were able to win all three rounds of that," he says. "That was our second year in a row to win that. We had a great race with Chase in the last round. I just barely got him off turn four. It was exciting for the fans and everything, and it gives you some confidence going into the feature."
The feature didn't go as well. "Unfortunately, we got a flat tire on the second lap," says Brady. "We weren't quite as good from the back. We ended up 14th. That was disappointing after going into it having a chance to win."
Follow Brady on his Website, Twitter and Facebook!
Follow Brady at his website located at www.BradyBaconRacing.com! Also keep up with him on Facebook and Twitter (which also can be accessed at the website) at the following links…
Twitter Link – http://twitter.com/BradyBacon
Facebook Link - www.facebook.com/pages/Brady-Bacon-Racing/278125555137
Partner of the Week – Heath Clips Lawn Care
Call Heath Clips Lawn Care in St. Charles, Missouri for all your lawn needs! Call them today at (636) 299-3092!
Associate Marketing Partner of the Week – King Racing Products
King Racing Products are Outlaw proven and American Made. They are located in Visalia, California and offer anything you need for your sprint car. Call them toll free at 1-866-209-8544 or take a look at their catalog at www.KingRacingProducts.com!
Brady Bacon Racing would like the following sponsors for all their help: Print Place, Fatheadz Eyewear, Triple X Race Co., Tel-Star Technologies, PPM Titanium Products, KTA Kiser's Truck and Auto (formerly Sham's Garage), Heath Clips Lawn Care, Chubby from CnB Mushroom Farms, Lucas Oil Products, Lightning Wings, CP Carillo, Keizer Wheels, Smiley's Racing Products, Eaton Industrial Coatings, Sweet Mfg., Butlerbuilt Seats, Brown and Miller Racing Solutions, Proglide Coatings, Diversified Machine Inc., Fuel Safe, Allstar Performance, Simpson, Octane Ink, Schroth Racing, Wilwood, King Racing Products and Schoenfeld Headers.
The Hoffman #69 sprinter is sponsored by Mean Green, Mopar, Triple X Race Components, Hoosier, DMI, Lykins, Engler Machine & Tool, Goodridge Fluid Transfer Systems, KSE, MPD Racing, CSI Shocks, XYZ Machining, Saldana Racing Products, Fuel Safe Racing Cells, Fastener Specialty Motorsports, Wilwood Brakes, Joe Gibbs Driven Racing Oil, Zemco Headers, Chalk Racing Products and Weld.
Photo: Brady won the "King of the Hill" Match Races to earn the pole Saturday night at Kokomo (Travis Branch Photo)
Bill W Media
Monroe, IA USA
Twitter: @BillWMedia
e-mail: sprntcar@hotmail.com
Back to News