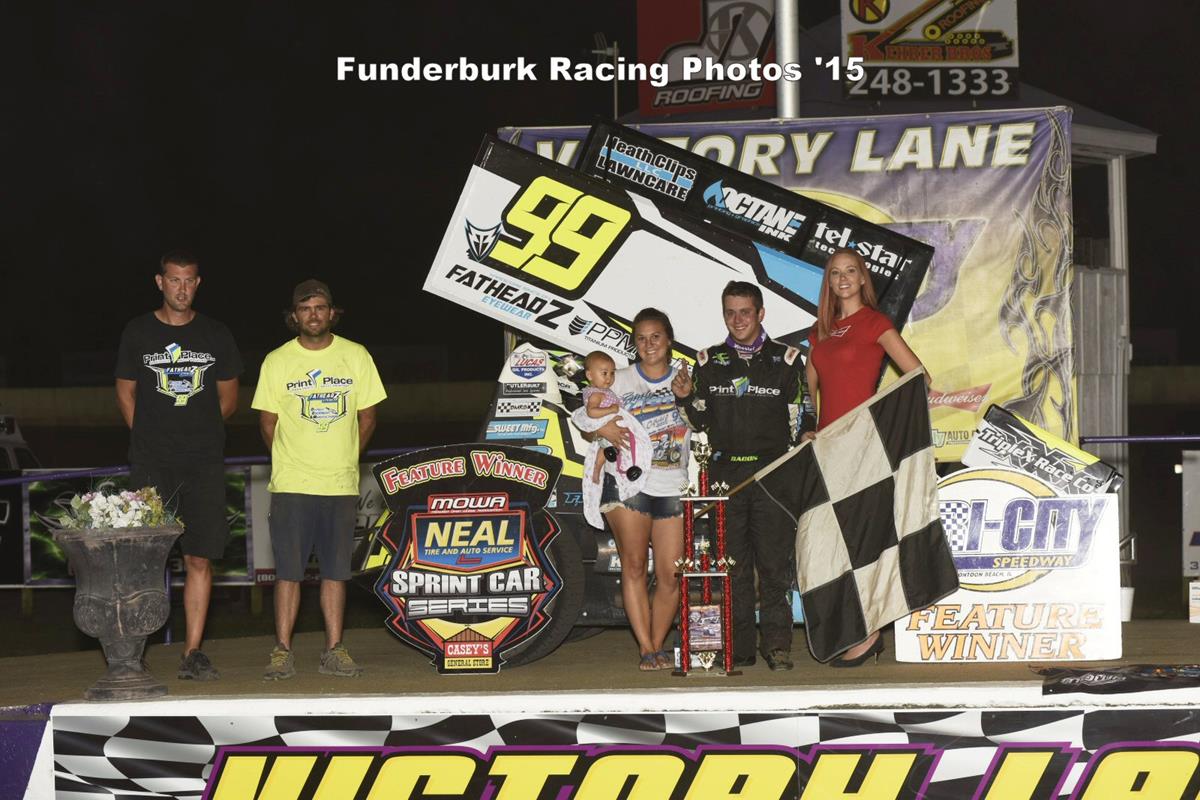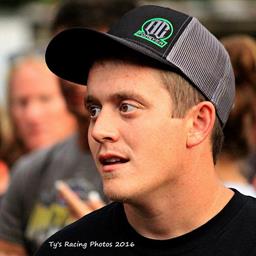 ---
Brady Bacon – Win #11 of Season Comes in Granite City!
Brady Bacon – Win #11 of Season Comes in Granite City!
(Bill W) July 29, 2015 – Brady Bacon won his eleventh feature of the year last Friday night at the Tri-City Speedway in Granite City during Illinois Speedweek. The Broken Arrow, Oklahoma driver swept the heat, Dash and feature at the 3/8-mile oval in the Brady Bacon Racing #99. This weekend, Brady will pilot the Paul Martens #48 in Silver Crown competition at the Belleville High Banks in Kansas Friday before competing in his car in the 410 class at Knoxville Raceway in Iowa on Saturday.
Illinois Speedweek began Thursday at Quincy Raceways. "It was a tough night in Quincy," says Brady. "We blew up the motor in the heat race running second. We changed the motor and started in the back of the feature. We started 22nd and we were up to fourteenth or so in a few laps. The guy in front of me jumped a tire and spun out. We didn't have anywhere to go and tipped over."
Things turned around quickly at Tri-City Speedway for Brady on Friday. "We were really good at Granite City," he says. "We were leading the heat by ¾ of a lap when the yellow came out. Christopher Bell and I had a good race in the Dash, but we were able to win that too."
Bell would start outside row one. "He was able to get out in front of me there early," says Brady. "The outside was a little better on the start. We were right there with him. I felt like we were better than him, but we were waiting it out. He got together with a lapped car, and we inherited the lead."
Brady would sail from that point on. "We stayed out front there," he says. "About halfway through, the track took rubber and we were able to find it before anyone could get by us. It was pretty much single file after that."
Saturday's race was at the 1/5-mile Macon Speedway. "I had been there in a midget, but never a sprint car," says Brady. "We were leading the heat and had a valve line come lose. That took us out of the heat and put us in the back of the feature."
Brady put on a charge after starting 19th. "We were able to get up to third," he says. "It was kind of scary being in the back for a while. There wasn't much room. There were some wrecks, but we also had a good car. We had a shot to win in three and four on the last lap. We were right behind the leaders. We just kind of ran out of laps."
The weekend finale Sunday was at Jacksonville Speedway. "The track was really rough," says Brady. "We were in the back of the heat and ran sixth. We started eighth in the feature. It was rough and narrow. We were running fifth most of the time. We actually were passing for third with about two to go, when AJ Bruns bounced and we got into him. We bent a wheel and that was it."
Brady is looking forward to Friday's event in Belleville. "We've run well there in the midgets, but it's definitely different than most tracks we see in Silver Crown. We'll see how it goes."
Follow Brady on his Website, Twitter and Facebook!
Follow Brady at his website located at www.BradyBaconRacing.com! Also keep up with him on Facebook and Twitter (which also can be accessed at the website) at the following links…
Twitter Link – http://twitter.com/BradyBacon
Facebook Link - www.facebook.com/pages/Brady-Bacon-Racing/278125555137
Partner of the Week – Tel-Star Communications
Tel-Star Communications, Inc. is a personal communications service company. Tel-Star Communications was formed in October of 2000 to bring you the highest quality service available in this complex market of communications. With over 50 years of combined experience, Tel-Star Communications brings you the highest expertise and diversity this market has to offer. Each technician has been trained, tested and authorized by the system manufacturer in telephone design, installation, programming, training, troubleshooting, and system maintenance and repair. Our number one priority is Customer Service and we feel that what we provide is unparalleled with any other service company. Tel-Star Communications will work on any job and will always do it cost effectively. Our philosophy is based on best cost, best product, and what is best for our customer. Visit Tel-Star Communications on the web at www.Tel-StarCommunications.com!
Associate Marketing Partner of the Week – Schroth Racing
Schroth is at the forefront of safety in all forms of competitive motorsport. Their harnesses have an engineering advantage over the competition, and feature solutions to common installation pitfalls. Schroth's Tuning line of belts offers the world's only aftermarket harnesses that meet the requirements of the DOT. All belts mount to factory locations to utilize the engineering that's already gone into your car. Visit them today at www.SchrothRacing.com!
Brady Bacon Racing would like the following sponsors for all their help: Print Place, Fatheadz Eyewear, Triple X Race Co., Tel-Star Technologies, PPM Titanium Products, KTA Kiser's Truck and Auto (formerly Sham's Garage), Heath Clips Lawn Care, Chubby from CnB Mushroom Farms, Lucas Oil Products, Lightning Wings, CP Carillo, Keizer Wheels, Smiley's Racing Products, Eaton Industrial Coatings, Sweet Mfg., Butlerbuilt Seats, Brown and Miller Racing Solutions, Proglide Coatings, Diversified Machine Inc., Fuel Safe, Allstar Performance, Simpson, Octane Ink, Schroth Racing, Wilwood, King Racing Products and Schoenfeld Headers.
The Hoffman #69 sprinter is sponsored by Mean Green, Mopar, Triple X Race Components, Hoosier, DMI, Lykins, Engler Machine & Tool, Goodridge Fluid Transfer Systems, KSE, MPD Racing, CSI Shocks, XYZ Machining, Saldana Racing Products, Fuel Safe Racing Cells, Fastener Specialty Motorsports, Wilwood Brakes, Joe Gibbs Driven Racing Oil, Zemco Headers, Chalk Racing Products and Weld.
Photo: Brady swept the night at Tri-City Speedway (Mark Funderburk Racing Photo)
Bill W Media
Monroe, IA USA
Twitter: @BillWMedia e-mail: sprntcar@iowatelecom.net
Back to News