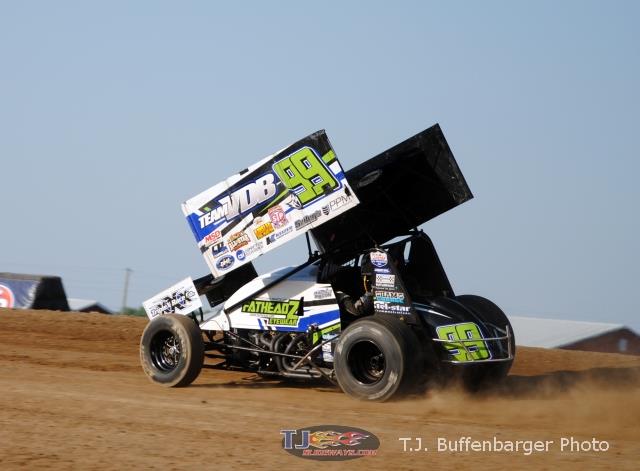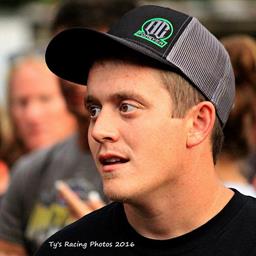 ---
Perris on the Horizon!
Brady Bacon – Perris on the Horizon!
(Bill W) October 28, 2014 – Brady Bacon and the Hoffman Racing #69 team are focused on the Perris Oval Nationals coming up November 7 and 8 at the Perris Auto Speedway in California. The team will take a fifty-one point lead over Bryan Clauson when they head west. Last weekend, the Broken Arrow, Oklahoma driver found himself pulling double duty at Atomic Speedway near Chillicothe, Ohio in non-wing and Renegade 410 winged sprint action.
Qualifications on the high banks of Atomic Speedway were held on Friday. Brady timed in ninth quick overall. "We went out in the sixth group," he says. "It was pretty good. The car was bottoming out a little bit in the corners. If it wasn't for that, I think we could have gotten a top three."
Starting third in his heat, he would go on to take the checkers. "I felt really good in the heat race," says Brady. "We had a problem in the Dash, though, and we weren't able to finish."
Brady would start tenth in Saturday's main event. "I think maybe we got as far up as eighth at one point," he says. "We faded back to tenth at the very end. We ran ninth most of the way, but Randy Hannagan got me at the end. It was just slick, with most guys going through the middle or bottom."
Non-wing action started on Thursday. "We had a problem in qualifying and didn't get a lap in," says Brady. "We finished sixth in the heat after starting eighth."
He would line up in row nine for Saturday's feature. "We were three-wide racing, but no one was really going anywhere," says Brady. "I think we were able to get up to eleventh or twelfth at one point, but then we fell back to around fourteenth. I pulled off at that point, because I wasn't going anywhere. It was slick, slick, slick."
Brady is looking forward to heading west in his quest for a USAC championship. "I'm excited to get back going with USAC," he says. "Perris was pretty good to us last year. We finished in the top five both nights. We've got some momentum going here, and we just want to carry it into the final few races."
After the race Oval Nationals, USAC will conclude their season at Canyon Speedway Park near Peoria, Arizona November 14 and 15.
Follow Brady on his Website, Twitter and Facebook!
Follow Brady at his website located at www.BradyBaconRacing.com! Also keep up with him on Facebook and Twitter (which also can be accessed at the website) at the following links…
Twitter Link – http://twitter.com/BradyBacon
Facebook Link - www.facebook.com/pages/Brady-Bacon-Racing/278125555137
Partner of the Week – Tel-Star Communications
Tel-Star Communications, Inc. is a personal communications service company. Tel-Star Communications was formed in October of 2000 to bring you the highest quality service available in this complex market of communications. With over 50 years of combined experience, Tel-Star Communications brings you the highest expertise and diversity this market has to offer. Each technician has been trained, tested and authorized by the system manufacturer in telephone design, installation, programming, training, troubleshooting, and system maintenance and repair. Our number one priority is Customer Service and we feel that what we provide is unparalleled with any other service company. Tel-Star Communications will work on any job and will always do it cost effectively. Our philosophy is based on best cost, best product, and what is best for our customer. Visit Tel-Star Communications on the web at www.Tel-StarCommunications.com!
Associate Marketing Partner of the Week – Sweet Manufacturing
Sweet Manufacturing was incorporated in 1978 with the basic concept of providing racers with steering products that would offer a competitive advantage. All of their products have been designed and built using the experience and knowledge gained from Randy Sweet's fifty years of racing competition, plus continuous input from the nation's top drivers, engineers, and chassis builders. Randy Sweet's background and desire to win is what helps Sweet Manufacturing produce parts that are developed by experience and proven by performance. Visit them online at www.SweetMfg.biz!
Brady Bacon Racing would like the following sponsors for all their help: Fatheadz Eyewear, Tel-Star Communications, PPM Titanium Products, Triple X Race Components, Smiley's Racing Products, Heath Clips Lawn Care, VanDerBrink Designs, Keizer Aluminum Wheels, Eaton Industrial Coatings, Pattison Precision Products, Oilfield Equipment and Manufacturing, Butlerbuilt Seats, Hoosier Tire Southwest, Diversified Machine Inc., Brown and Miller Racing Solutions, Lightning Wings, Simpson, CP Pistons, Schoenfeld Headers, Carrillo Rods, Sweet Manufacturing, All Star Performance, King Racing, Schroth Racing, FSR Radiators and Fuel Safe.
The Hoffman #69 sprinter is sponsored by Mean Green, Mopar, Triple X Race Components, Hoosier, DMI, Lykins, Engler Machine & Tool, Goodridge Fluid Transfer Systems, KSE, MPD Racing, CSI Shocks, XYZ Machining, Saldana Racing Products, Fuel Safe Racing Cells, Fastener Specialty Motorsports, Wilwood Brakes, Joe Gibbs Driven Racing Oil, Zemco Headers, Chalk Racing Products and Weld.
Attached: (TJ Buffenbarger Photo)
Bill W Media
Monroe, IA USA
Twitter: @BillWMedia
e-mail: sprntcar@iowatelecom.net
---
Submitted By: Brady Bacon
Back to News