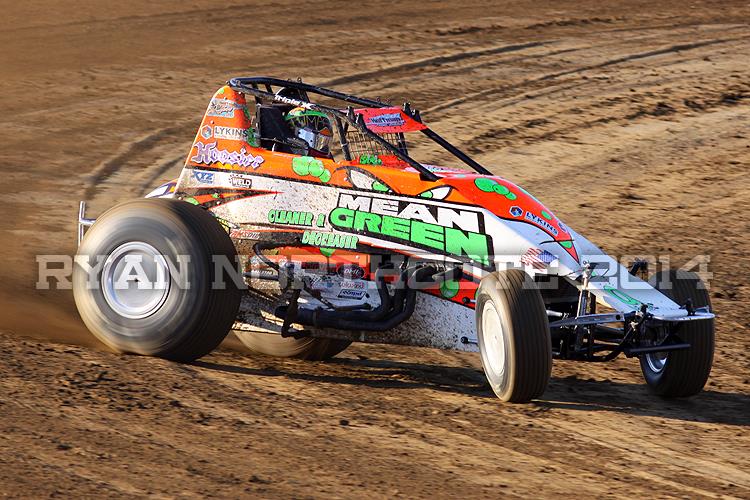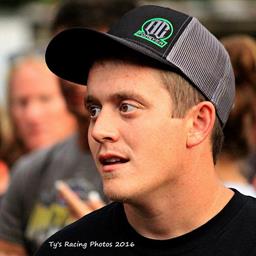 ---
Strong Runs in Hoosier State!
Brady Bacon – Strong Runs in Hoosier State!
(Bill W) September 29, 2014 – Brady Bacon was active in two disciplines in Indiana last weekend. He raced with the wing and the World of Outlaws at the Bloomington Speedway, finishing in the top ten on Friday, before registering a second place run and maintaining his lead in the USAC National Sprint Car standings on Saturday at Lawrenceburg Speedway. It will be double duty this weekend at the Tri-City Speedway in Granite City, Illinois. He'll be running the Gold Crown midget event for the Wilke-Pak #11 team Thursday through Saturday, and the Brady Bacon #99 sprint car with the MOWA series on Friday and Saturday.
Brady had high hopes heading into Bloomington with the WoO last Friday, but missed the heat inversion by one spot, timing in 17th quick. "We just missed it a little bit in qualifying," he says. "I lost some momentum coming off of turn four both laps. Unfortunately, it cost us the heat invert, which would have been nice."
The Broken Arrow, Oklahoma driver was able to show his prowess with a charge from fifth to third in his heat. He would line up 16th in the feature. "We were really good in the heat race," says Brady. "We had the second best lap. In the feature, I was actually a little too tight. I had to run the top, and everyone was kind of bottled up on the bottom. I was able to get by some people early."
Brady worked his way up to tenth at the checkers. "I thought I was going to get up through there some more, but after we had a red flag there, the track leveled off," he says. "It didn't seem like there was as much to work with. It was a top ten with the Outlaws and a decent payday. We didn't tear anything up, so that's a pretty good night, really."
It was on to the high banks of Lawrenceburg Speedway on Saturday with the Hoffman Racing #69 team. Brady would register fourth quick in time trials. "We were the second to last car out, so that was a pretty decent qualifying time for us," he says. "We won the heat from sixth. We had a really good car in the heat. Things just worked out our way."
Starting third in the main event, he would find himself in a familiar spot. "It was kind of the story of the last couple races (Terre Haute and Eldora) for us," says Brady. "We were in second trying to make a move, it was just a different guy this time (Bryan Clauson)."
Brady did what he could to get by Clauson, but would finish in the runner-up spot. "It was pretty much one-lane on the top," he says. "I tried the bottom several times, but I wasn't able to get to him. I stayed right with him the whole time. We had a yellow with about five to go, and on the restart, we were able to make a really good lap on the bottom in three and four, and got in front of him coming off the corner. He had enough momentum to get back by me at the flag. That was pretty much my only shot. He kept his speed up after that and didn't make any mistakes. We settled for second."
With a handful of USAC events left, Brady has a bit of a cushion in the championship race. "We tied with Bryan for points on the night and gained on Dave (Darland)," he says. "He had some more bad luck. We have four races left with a fifty-one point lead, so we need to keep our momentum up. If we do that, I think we'll be fine."
Follow Brady on his Website, Twitter and Facebook!
Follow Brady at his website located at www.BradyBaconRacing.com! Also keep up with him on Facebook and Twitter (which also can be accessed at the website) at the following links…
Twitter Link – http://twitter.com/BradyBacon
Facebook Link - www.facebook.com/pages/Brady-Bacon-Racing/278125555137
Partner of the Week – Fatheadz Eyewear
Made especially for larger heads, extra wide to fit even the biggest heads, Fatheadz Eyewear is a leader in the industry. Whether you need sunglasses or prescription eyewear, Fatheadz has a variety of frames to choose from. Buy oversize Fatheadz sunglasses online at www.Fatheadz.com and save!
Associate Marketing Partner of the Week – Carrillo Rods
Uncover the rich tradition of innovation; revealing unprecedented piston and connecting rod manufacturing achievement. CP Pistons and Carrillo industries have joined forces with one goal in mind: offer high quality performance products with excellent customer service. Visit CP-Carrillo online at www.CP-Carrillo.com!
Brady Bacon Racing would like the following sponsors for all their help: Fatheadz Eyewear, Tel-Star Communications, PPM Titanium Products, Triple X Race Components, Smiley's Racing Products, Heath Clips Lawn Care, VanDerBrink Designs, Keizer Aluminum Wheels, Eaton Industrial Coatings, Pattison Precision Products, Oilfield Equipment and Manufacturing, Butlerbuilt Seats, Hoosier Tire Southwest, Diversified Machine Inc., Brown and Miller Racing Solutions, Lightning Wings, Simpson, CP Pistons, Schoenfeld Headers, Carrillo Rods, Sweet Manufacturing, All Star Performance, King Racing, Schroth Racing, FSR Radiators and Fuel Safe.
The Hoffman #69 sprinter is sponsored by Mean Green, Mopar, Triple X Race Components, Hoosier, DMI, Lykins, Engler Machine & Tool, Goodridge Fluid Transfer Systems, KSE, MPD Racing, CSI Shocks, XYZ Machining, Saldana Racing Products, Fuel Safe Racing Cells, Fastener Specialty Motorsports, Wilwood Brakes, Joe Gibbs Driven Racing Oil, Zemco Headers, Chalk Racing Products and Weld.
Attached: (Ryan Northcote Photo)
Bill W Media
Monroe, IA USA
Twitter: @BillWMedia
e-mail: sprntcar@iowatelecom.net
---
Article Credit: Bill W
Submitted By: Brady Bacon
Back to News