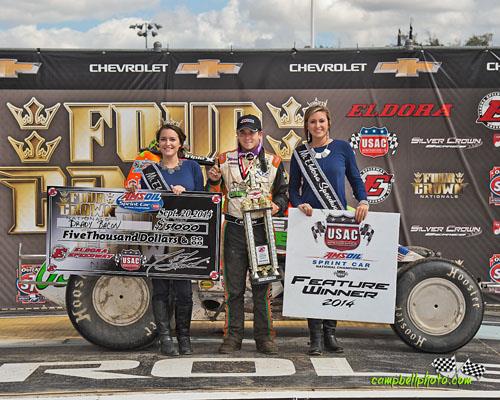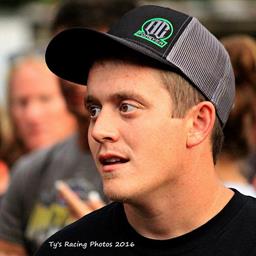 ---
Two Big Wins Come at a Good Time!
Brady Bacon – Two Big Wins Come at a Good Time!
(Bill W) September 23, 2014 – On the strength of two big wins at historic tracks last week, Brady Bacon and the Hoffman Racing #69 team have opened up a 51-point lead on Bryan Clauson in the USAC National Sprint Car point standings. The Broken Arrow, Oklahoma ace picked up wins at the "Jim Hurtubise Classic" last Thursday at the Terre Haute Action Track in Indiana, and at the 4-Crown at Eldora Speedway near Rossburg, Ohio Sunday. This week in Indiana, he'll put the wing on to take on the World of Outlaws at Bloomington Speedway before returning to USAC action at Lawrenceburg Speedway Saturday.
Unlike the previous night when the Outlaws visited Terre Haute, Thursday saw drier conditions. "It was definitely dry in qualifying," says Brady. "I figured (the groove) was going to be a little lower and that caught me off guard. We didn't get the lap we should have because of that."
Timing in fifth quick, Brady would charge from fifth to second in the heat race. "We were pretty good in the heat," he says. "We were able to move around pretty much wherever we needed to go."
He would start inside row two for the non-stop 30-lap main event. "We were able to get up to second in one and two on the bottom," says Brady. "Pretty much for the rest of the race, it was me behind (Robert) Ballou, trying to figure out something to get by him. There were parts of the race where I moved to the bottom and made up a little bit or lost a little bit on him. Mostly, we were both on the top, with me about five car lengths behind him."
Brady would alter his line, trying to make up ground. "With about five laps to go, I started moving down in three and four trying to make something happen," he says. "I knew the cushion was getting way, way up on the flat like it was the last time I was leading the race there. They had passed me on the bottom that time."
This time, Brady would return the favor. "Finally, I got a really good run coming off the bottom coming to the white flag," he says. "He was on the top and I was able to slide in front of him in one and two. I was able to hold on the rest of the lap to win. It was a good feeling. I haven't finished off the podium there with the Hoffman's, but we hadn't won either. It was good to finally get a win at Terre Haute."
Saturday night saw qualifying for sprint car portion of USAC's 4-Crown at Eldora. "We were just a little tight in qualifying (third quick)," says Brady. "It may have cost us quick time, but we were pretty good. Heats have been kind of a problem for me at Eldora, but we were able to get up to second."
Rain that night forced cancellations of the Silver Crown, midget and sprint car features. That set up a Sunday afternoon 30-lap feature. "It was slick, slick, slick," says Brady. "After the midget feature, I started feeling a little rubber on the frontstretch. We kept it a little tight the first half of the race. On the start, I was able to follow Ballou on the top and barely squeezed by (Jerry) Coons, and Tracy (Hines). The cushion was still there in two, but it was gone in three and four."
Brady found himself in a familiar spot. "It was almost the same as Terre Haute," he says. "I was following Ballou and waiting to see what happened. We started finding the rubber a little bit earlier than some in three and four. We had a caution and I messed up on the restart. I started a little higher and figured I could catch some of the rubber. There wasn't enough to get a good run with cold tires, so (Bryan) Clauson was able to get by me."
Now in third, in was time to make a move. "It really started laying rubber then," says Brady. "We had to kind of get in line, but we were getting better as the race went on. On one of the last restarts, Clauson spun the tires a little bit and I was able to get by him in one and two. I was able to run down Ballou. He slid a little high in one and got out of the rubber, and I was able to get by him. We were able to hold onto the lead after a couple of restarts."
Not only did Brady and the Hoffman team win at some historic places, they were able to get some cushion in their quest for a USAC sprint car title. "That was obviously a good week for us," says Brady. "We'd run well at Eldora as well, but that was our first USAC victory there too. It was good to get a little breathing room on the points, and get a good solid week."
Brady drove the Wilke-Pak #11 midget at Eldora as well. They would qualify ninth quick Saturday night before finishing fifth in the heat. "We struggled in the heat, but we definitely had a good car in the feature in the day show Sunday," he says. "We got into the big 'Talladega' pileup and bent the nerf bar a little bit. It was really dusty to start that race. We were able to get to sixth, but we had put a harder tire on anticipating rubber-down. Because of that, I lost a few spots not being able to get a run and slide anyone. We wound up sixth. It was kind of a survival race."
Brady had planned to run the McQuinn #14 in Silver Crown action as well. "We had some handling issues in qualifying," he says. "I thought we had figured some of those out, but we hadn't. We were deemed too wide after qualifying, which would have put us on the tail. We had the rain date, and the owners had some things to do back home, so we didn't run Sunday."
Follow Brady on his Website, Twitter and Facebook!
Follow Brady at his website located at www.BradyBaconRacing.com! Also keep up with him on Facebook and Twitter (which also can be accessed at the website) at the following links…
Twitter Link – http://twitter.com/BradyBacon
Facebook Link - www.facebook.com/pages/Brady-Bacon-Racing/278125555137
Partner of the Week – Heath Clips Lawn Care
Call Heath Clips Lawn Care in St. Charles, Missouri for all your lawn needs! Call them today at (636) 299-3092!
Associate Marketing Partner of the Week – Simpson Performance Products
Simpson Performance Products is headquartered in New Braunfels, TX with more than 80,000 sq. feet of manufacturing and warehouse space. Many of our restraints, helmets and flagship parachutes are manufactured and tested right here. Simpson fire suits and crew uniforms are manufactured outside of Los Angeles, CA in our 52,000 sq. foot facility. Simpson also employs the largest customer service and sales team devoted solely to servicing NASCAR customers of any racing safety supplier, based in the heart of NASCAR country, Mooresville, NC. Visit us online at www.TeamSimpson.com!
Brady Bacon Racing would like the following sponsors for all their help: Fatheadz Eyewear, Tel-Star Communications, PPM Titanium Products, Triple X Race Components, Smiley's Racing Products, Heath Clips Lawn Care, VanDerBrink Designs, Keizer Aluminum Wheels, Eaton Industrial Coatings, Pattison Precision Products, Oilfield Equipment and Manufacturing, Butlerbuilt Seats, Hoosier Tire Southwest, Diversified Machine Inc., Brown and Miller Racing Solutions, Lightning Wings, Simpson, CP Pistons, Schoenfeld Headers, Carrillo Rods, Sweet Manufacturing, All Star Performance, King Racing, Schroth Racing, FSR Radiators and Fuel Safe.
The Hoffman #69 sprinter is sponsored by Mean Green, Mopar, Triple X Race Components, Hoosier, DMI, Lykins, Engler Machine & Tool, Goodridge Fluid Transfer Systems, KSE, MPD Racing, CSI Shocks, XYZ Machining, Saldana Racing Products, Fuel Safe Racing Cells, Fastener Specialty Motorsports, Wilwood Brakes, Joe Gibbs Driven Racing Oil, Zemco Headers, Chalk Racing Products and Weld.
Attached: Brady in Victory Lane at Terre Haute (Ryan Northcote Photo)
Attached: Brady in Victory Lane at the 4-Crown (Mike Campbell Photo)
Bill W Media
Monroe, IA USA
Twitter: @BillWMedia
e-mail: sprntcar@iowatelecom.net
---
Article Credit: Bill W
Submitted By: Brady Bacon
Back to News