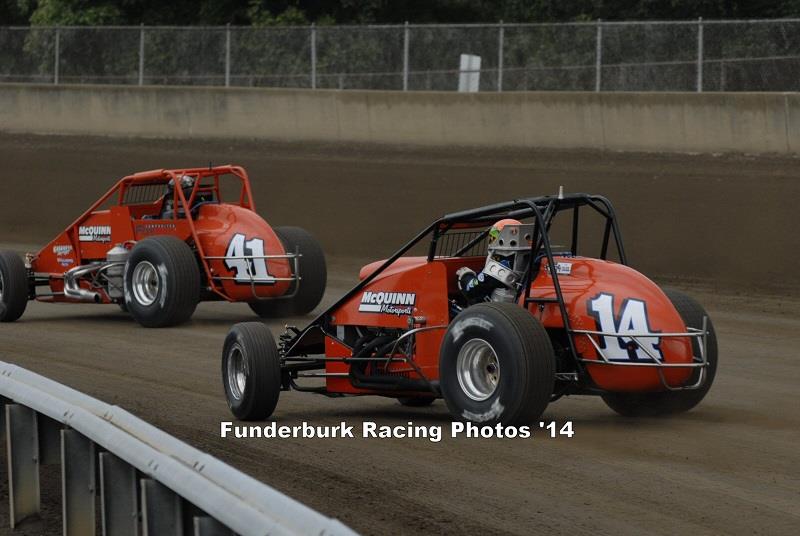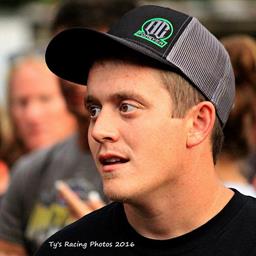 ---
On the Podium at the Ted Horn 100!
Brady Bacon – On the Podium at the Ted Horn 100!
(Bill W) September 1, 2014 – Brady Bacon got a taste of Silver Crown Racing a few weeks back in Springfield, Illinois, but that event was washed out after qualifying. Sunday night, he drove from 12th to third in the "Ted Horn 100" on the "Magic Mile" in DuQuoin, Illinois aboard the McQuinn Motorsports #14. This Sunday, the Broken Arrow, Oklahoma driver will be back in the Silver Crown division at the makeup of the "Tony Bettenhausen 100" at the Illinois State Fairgrounds in Springfield.
Brady would qualify twelfth quick at DuQuoin. "We changed some things on the car to make me more comfortable," he says. "The track was a lot different than Springfield had been. It had a big cushion, and you had to drive the car pretty hard to be fast. We weren't really concerned about where we qualified. We were just trying to get it where the car would get around a little better."
Early on, Brad got a feel for the big cars on the mile. "We rode around for a while," he says. "I think the leaders were catching us. The car was really tight at the beginning of the race. They had a yellow, and we kept getting better and better. The fuel load came off and we were able to pass some cars."
With seventy laps of the hundred scheduled, a little too much of the fuel load came off. "We were fifth, sixth or seventh around the halfway point," says Brady. "We missed a wreck, and picked up several more spots. With thirty to go, we were in fourth. We started running out of fuel a bit in the center of the corners. The car was really good, but the fuel kept getting worse."
Brady tried to hold on, and a late race caution gave him an opportunity. "With ten to go, I was just putting around the bottom trying to make it to the end," he says. "I think we were sixth. There was less than five laps to go and we had a caution. I was able to come in and put fuel in. At that point, the (caution) laps weren't counting. We had a green, white, checker and we were able to go from sixth to third. We had a really good car at the end when it was running. We were running the top, so I don't think the car wanted to go that far on a tank of fuel."
Last Tuesday Brady raced at the Jason Leffler Memorial with the POWRi midgets at Wayne County Speedway in Wayne City, Illinois. After finishing second in his heat and sixth in his qualifier, he would pull off early in the feature. "The track was rough and the car was bouncing really badly," he says of the Scott Ronk #19. "You weren't going to come from the back to the front. It was racy, but you were racing with the same guy the whole race. We were running in the back and it was bouncing ready to crash, so I pulled off."
A rainout of the "Jim Hurtubise Classic" Friday at the Terre Haute Action Track will set up a fun week of racing for Brady in mid-September. Tuesday, September 16, the World of Outlaws will be at Kokomo Speedway in Indiana before moving down to Terre Haute on Wednesday. Thursday will be the makeup for the Hurtubise, and Brady will finish out the week at the 4-Crown at Eldora Speedway near Rossburg, Ohio that Saturday.
Follow Brady on his Website, Twitter and Facebook!
Follow Brady at his website located at www.BradyBaconRacing.com! Also keep up with him on Facebook and Twitter (which also can be accessed at the website) at the following links…
Twitter Link – http://twitter.com/BradyBacon
Facebook Link - www.facebook.com/pages/Brady-Bacon-Racing/278125555137
Partner of the Week – Smiley's Race Products
Smileys Racing Products and Hoosier Tire Southwest have been in the racing business for 30 years in the Dallas, Fort Worth area. Visit Smiley's, either in Kennedale, at the showroom store in Mesquite, or at the racetracks. All employees at Smiley's Racing Products and Hoosier Tire Southwest are directly involved with race teams either as owners, drivers, pit crew members etc. What this means to you our customers is racing advice that has been tested on the track first, and then they pass their findings on to the customer. From parts and tires to complete race cars, Smiley's Racing Products and Hoosier Tire Southwest is ready to help you get to the checkered flag first. All aspects of their business can be seen at www.SmileysRacing.com. Click on catalog and put your information in and you will be sent a catalog free of charge.
Associate Marketing Partner of the Week – Lightning Wings
Lightning Wings are made by racers for racers. Each one is built to your car's specifications and is constructed from aircraft quality aluminum! Whether you drive a sprint car or mini-sprint, or need trailer accessories, choose Lightning Wings! Visit them online at www.LightningWings.com!
Brady Bacon Racing would like the following sponsors for all their help: Fatheadz Eyewear, Tel-Star Communications, PPM Titanium Products, Triple X Race Components, Smiley's Racing Products, Heath Clips Lawn Care, VanDerBrink Designs, Keizer Aluminum Wheels, Eaton Industrial Coatings, Pattison Precision Products, Oilfield Equipment and Manufacturing, Butlerbuilt Seats, Hoosier Tire Southwest, Diversified Machine Inc., Brown and Miller Racing Solutions, Lightning Wings, Simpson, CP Pistons, Schoenfeld Headers, Carrillo Rods, Sweet Manufacturing, All Star Performance, King Racing, Schroth Racing, FSR Radiators and Fuel Safe.
The Hoffman #69 sprinter is sponsored by Mean Green, Mopar, Triple X Race Components, Hoosier, DMI, Lykins, Engler Machine & Tool, Goodridge Fluid Transfer Systems, KSE, MPD Racing, CSI Shocks, XYZ Machining, Saldana Racing Products, Fuel Safe Racing Cells, Fastener Specialty Motorsports, Wilwood Brakes, Joe Gibbs Driven Racing Oil, Zemco Headers, Chalk Racing Products and Weld.
Attached: Brady aboard the McQuinn #14 Silver Crown machine (Mark Funderburk Racing Photos)
Bill W Media
Monroe, IA USA
Twitter: @BillWMedia
e-mail: sprntcar@iowatelecom.net
---
Article Credit: Bill W
Submitted By: Brady Bacon
Back to News