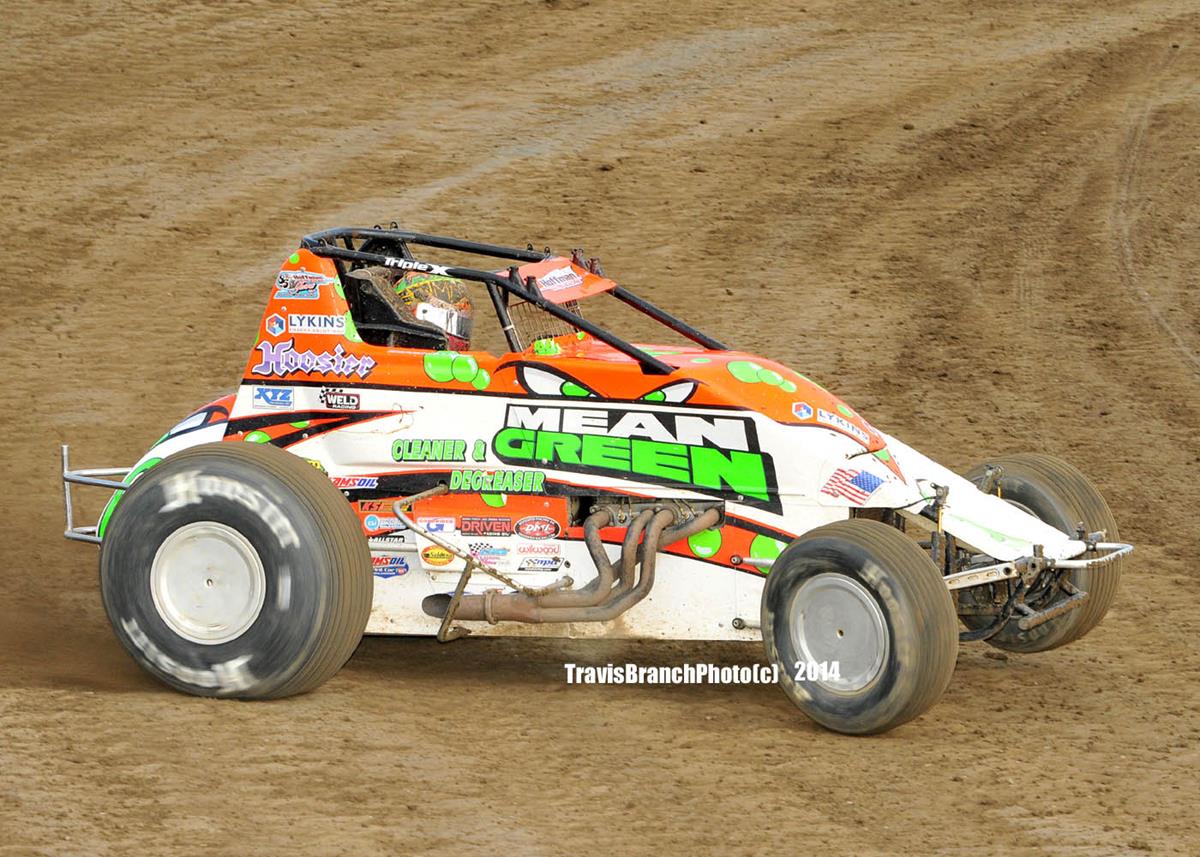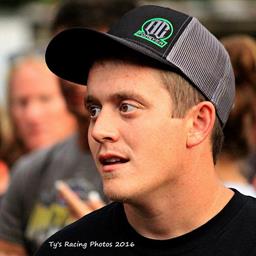 ---
Surviving the Smackdown!
Brady Bacon – Surviving the Smackdown!
(Bill W) August 25, 2014 – Heading into last weekend's Kokomo Smackdown III in Indiana, Brady Bacon and the Hoffman #69 team trailed Dave Darland by five points in the USAC National sprint car series point standings. The Broken Arrow, Oklahoma driver knew going in it would be tough racing on Darland's home track, but he maintained his spot in the standings with a pair of top five finishes. This week, Brady will race three events in three different disciplines. He will drive Scott Ronk's midget tomorrow night with POWRi at the Jason Leffler Memorial at Wayne County Speedway in Wayne City, Illinois. Friday will be the "Jim Hurtubise Classic" for the USAC National sprint cars at the Terre Haute Action Track in Indiana. On Sunday, Brady will climb in the Dave and Dennis McQuinn #14 Silver Crown car for the "Ted Horn 100" on the "Magic Mile" in DuQuoin, Illinois.
Brady and the #69 team got qualifying in Thursday before the rains came. "We qualified eleventh on Thursday," he says. "We were just off a little bit. We lost our direction at some point, and we just haven't been as fast since the Eastern Storm. We were looking for three races at the same track to get some things figured out. Then we didn't get the heat in, and had to pick that program up on Saturday afternoon."
With that program postponed until Saturday, things started anew on Friday. Brady would clock in second quick and charge from sixth to second in his heat. "We improved quite a bit in qualifying," he says. "We were really good in the heat race."
Starting sixth in the feature field, Brady would make up for a slow start by running fifth. "The track slicked off a little more than we thought," he says. "We weren't quite right in the feature. I got shuffled back a bit in the feature. We managed to get back up there a little ways."
With Thursday's show being picked up on Saturday, Brady would run second in his heat and line up 11th in the feature. "It was a day track," he says. "It was really dusty on top. I just went down to the bottom and could never be in the right place. I was right there in a pack of cars, and I just couldn't make up any ground there. We wound up seventh."
Saturday night's finale was rained out and moved to Sunday. The team was third in points and qualified for the "King of the Hill" match races determining the pole sitter for the main event. "We were able to beat (Chris) Windom to start it out," says Brady. "We had a really tight race with (Jon) Stanbrough. We actually banged wheels coming to the checker, and I sneaked by him. We were able to beat Dave (Darland) in the finals to get the pole and win that deal. That was pretty cool."
Brady would lead the feature early. "We led the first five laps, and then Dave got by us," he says. "He pulled away a little bit on top. It kind of worked its way in, and I went up there. I was able to run him down with about eighteen to go, and there was a caution with fifteen to go. I think I had blistered my tire, and we just weren't very good on the restarts after that."
He would checker fourth in the finale. "I lost a spot to (Robert) Ballou on that restart, and another one to (Bryan) Clauson on another restart," says Brady. "Points-wise, we came out a little better than we thought, considering that is Dave Darland's place. He had a DNF Friday night. We ran towards the front every night, so things worked out for us."
Follow Brady on his Website, Twitter and Facebook!
Follow Brady at his website located at www.BradyBaconRacing.com! Also keep up with him on Facebook and Twitter (which also can be accessed at the website) at the following links…
Twitter Link – http://twitter.com/BradyBacon
Facebook Link - www.facebook.com/pages/Brady-Bacon-Racing/278125555137
Partner of the Week – Triple X Race Components
At Triple X Race Components, we don't just build race parts – we race too. We know how expensive it is to race. That's why we offer the most common Sprint Car, Midget, and 600 Mini Sprint parts. We keep our costs down by building thousands of each part. We build the parts that get damaged the most. With our discounted pricing, you can afford to race hard and race to win. All Triple X components are produced in our ISO 9001 certified factory. They are laboratory tested, race tested, and universally approved. Whether you are a new customer or a repeat customer, you can be assured that you're buying race-proven products at great prices. We guarantee it. Triple X has established a large network of dealers coast to coast and internationally to serve your needs. Please stop by your local dealer and check out our newest products. Check Triple X Race Co. out on the web at www.XXXRaceCo.com!
Associate Marketing Partner of the Week – Brown & Miller Racing Solutions
Brown & Miller's lightweight range of hose satisfies virtually every racing application and their fittings are designed for safety, reliability and optimum weight saving. With an industry standard ProGold convoluted hose system, Smoothbore hose and Adaptor ranges, they have the complete system. To further complement these products, they can also provide custom engineered fittings designed to optimize hose installations where standard fittings may not be suitable. With outlets worldwide, there is no excuse to settle for second best! At Brown and Miller Racing Solutions, they maintain the simple philosophy that when our parts are on your racecar, they are a part of your team. Visit them on the web at www.BMRS.net!
Brady Bacon Racing would like the following sponsors for all their help: Fatheadz Eyewear, Tel-Star Communications, PPM Titanium Products, Triple X Race Components, Smiley's Racing Products, Heath Clips Lawn Care, VanDerBrink Designs, Keizer Aluminum Wheels, Eaton Industrial Coatings, Pattison Precision Products, Oilfield Equipment and Manufacturing, Butlerbuilt Seats, Hoosier Tire Southwest, Diversified Machine Inc., Brown and Miller Racing Solutions, Lightning Wings, Simpson, CP Pistons, Schoenfeld Headers, Carrillo Rods, Sweet Manufacturing, All Star Performance, King Racing, Schroth Racing, FSR Radiators and Fuel Safe.
The Hoffman #69 sprinter is sponsored by Mean Green, Mopar, Triple X Race Components, Hoosier, DMI, Lykins, Engler Machine & Tool, Goodridge Fluid Transfer Systems, KSE, MPD Racing, CSI Shocks, XYZ Machining, Saldana Racing Products, Fuel Safe Racing Cells, Fastener Specialty Motorsports, Wilwood Brakes, Joe Gibbs Driven Racing Oil, Zemco Headers, Chalk Racing Products and Weld.
Attached: Brady at Kokomo (Travis Branch Photo)
Bill W Media
Monroe, IA USA
Twitter: @BillWMedia
e-mail: sprntcar@iowatelecom.net
---
Article Credit: Bill W
Submitted By: Brady Bacon
Back to News