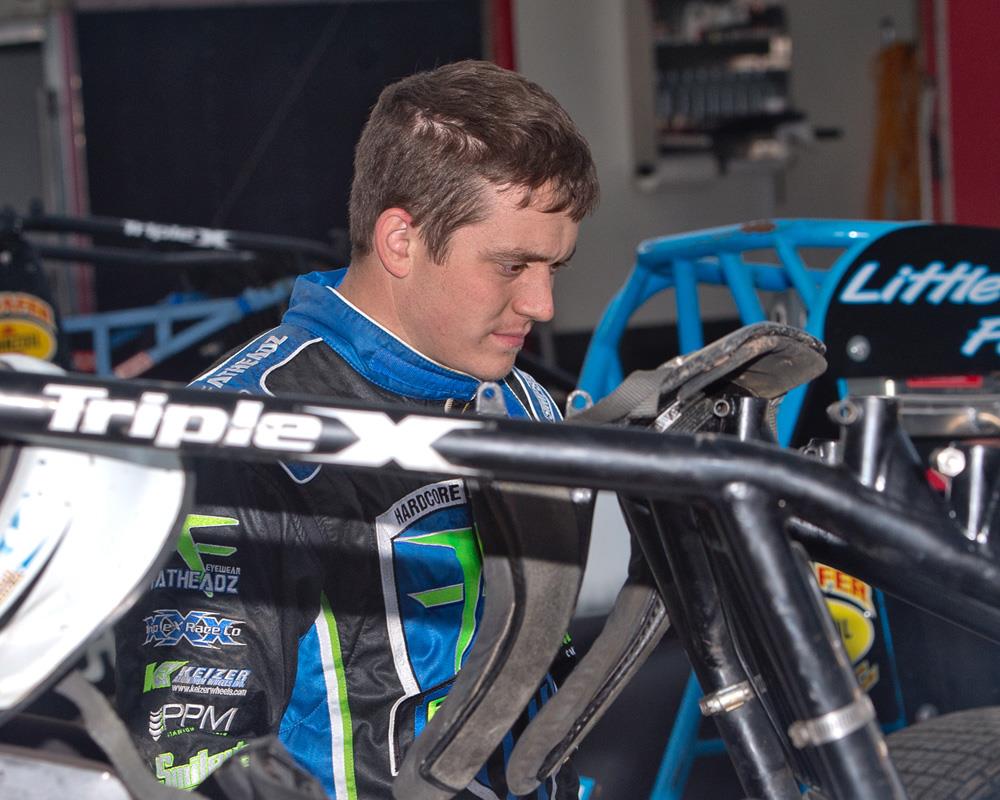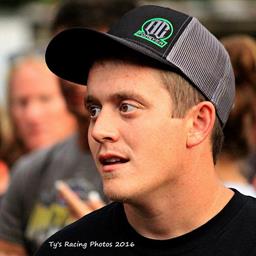 ---
Creek County Win Highlights Another Busy Week!
Brady Bacon – Creek County Win Highlights Another Busy Week!
(Bill W) August 19, 2014 – Brady Bacon picked up the win at Creek County Speedway near Sapulpa, Oklahoma on Saturday in USAC Southwest "Freedom Tour" action. The Broken Arrow, Oklahoma driver competed in five events last week covering three disciplines: non-wing 360, his first foray in Silver Crown and USAC midgets. Brady is happy to be back in his current home of Winchester, Indiana after almost a month away. This weekend, he'll be back in the Hoffman Racing #69 for the Kokomo Smackdown Thursday through Saturday.
Brady participated in three "Freedom Tour" events last week, starting at the Lawton Speedway in Oklahoma on Wednesday. He would win his heat. "We were able to draw well (the pole) and take advantage of it," he says. "The invert in the heat races is six by passing points, and that put us on the pole of the feature."
After spending most of the race on the point, he would checker second. "We were able to get out and lead for about eighteen laps," says Brady. "Something was going on with the handling of the car late there, and RJ (Johnson) was able to get by for the win. We found out later that we lost a bolt in the Jacob's ladder."
Thursday, the USAC Southwest series rolled into Creek County. "We were able to win the heat again (from the pole)," says Brady. "This time, we weren't able to make the invert though, so we had to start the feature seventh."
Brady used his experience to his advantage in the main event. "The car was really good in the feature," he says. "It didn't take us long to get behind the leader (Wyatt Burks) there. We were able to get by and get the win. It's always nice to be on a track you are familiar with so close to home."
Things were going well for Brady at the "Harold Leep Memorial" at 81 Speedway near Wichita, Kansas on Friday before mechanical gremlins struck. "We went from fifth to third in the heat," he says. "I really felt like we should have won the feature. We were able to get up to second pretty quickly, but something went wrong in the engine. We fell back to fifth at the checkers."
Having driven in so many different cars, it may come as a surprise that Brady had never climbed in a Silver Crown car. That changed Saturday at the "Tony Bettenhausen 100" on the Illinois State Fairgrounds in Springfield. The ride was aboard the Dave and Dennis McQuinn #14. The race was rained out after qualifying. Brady timed in ninth quick. "I had never met (Dennis and Dave) before Saturday," he says. "I had never driven a Silver Crown car, and I had never driven on a mile. It was really fun. Hopefully, we'll make that race up, and we're planning on running together in DuQuoin (Ted Horn 100) and at Eldora (Four Crown)."
The weekend ended Sunday in USAC National midget action at Angell Park Speedway in Sun Prairie, Wisconsin. Brady would time in eleventh quick in the Wilke-Pak #11. "We were o.k. in the heat (fourth), but unfortunately we got upside down in the feature with a couple laps to go," he says. "It wasn't a bad flip, but we were running around seventh at the time, so that was disappointing."
Follow Brady on his Website, Twitter and Facebook!
Follow Brady at his website located at www.BradyBaconRacing.com! Also keep up with him on Facebook and Twitter (which also can be accessed at the website) at the following links…
Twitter Link – http://twitter.com/BradyBacon
Facebook Link - www.facebook.com/pages/Brady-Bacon-Racing/278125555137
Partner of the Week – Tel-Star Communications
Tel-Star Communications, Inc. is a personal communications service company. Tel-Star Communications was formed in October of 2000 to bring you the highest quality service available in this complex market of communications. With over 50 years of combined experience, Tel-Star Communications brings you the highest expertise and diversity this market has to offer. Each technician has been trained, tested and authorized by the system manufacturer in telephone design, installation, programming, training, troubleshooting, and system maintenance and repair. Our number one priority is Customer Service and we feel that what we provide is unparalleled with any other service company. Tel-Star Communications will work on any job and will always do it cost effectively. Our philosophy is based on best cost, best product, and what is best for our customer. Visit Tel-Star Communications on the web at www.Tel-StarCommunications.com!
Associate Marketing Partner of the Week – Diversified Machine, Inc.
Diversified Machine Inc. (DMI) is a leading vertically-integrated supplier of fully engineered chassis and power train components and modules for the automotive OEMs and Tier 1 suppliers. DMI has the distinctive advantage of being the only company offering fully-integrated design, development, testing, casting, machining, and assembly capabilities, of both aluminum and ductile iron components.
Services We Offer
Full service product design and testing
Aluminum castings - fully machined and assembled
Ductile iron castings - fully machined and assembled
Highly automated machining facilities
Global manufacturing footprint
Global purchasing solutions
Low cost solutions
Light weight design

Brady Bacon Racing would like the following sponsors for all their help: Fatheadz Eyewear, Tel-Star Communications, PPM Titanium Products, Triple X Race Components, Smiley's Racing Products, Heath Clips Lawn Care, VanDerBrink Designs, Keizer Aluminum Wheels, Eaton Industrial Coatings, Pattison Precision Products, Oilfield Equipment and Manufacturing, Butlerbuilt Seats, Hoosier Tire Southwest, Diversified Machine Inc., Brown and Miller Racing Solutions, Lightning Wings, Simpson, CP Pistons, Schoenfeld Headers, Carrillo Rods, Sweet Manufacturing, All Star Performance, King Racing, Schroth Racing, FSR Radiators and Fuel Safe.
The Hoffman #69 sprinter is sponsored by Mean Green, Mopar, Triple X Race Components, Hoosier, DMI, Lykins, Engler Machine & Tool, Goodridge Fluid Transfer Systems, KSE, MPD Racing, CSI Shocks, XYZ Machining, Saldana Racing Products, Fuel Safe Racing Cells, Fastener Specialty Motorsports, Wilwood Brakes, Joe Gibbs Driven Racing Oil, Zemco Headers, Chalk Racing Products and Weld.
Attached: (Mike Campbell Photo)
Bill W Media
Monroe, IA USA
Twitter: @BillWMedia
e-mail: sprntcar@iowatelecom.net
---
Article Credit: Bill W
Submitted By: Brady Bacon
Back to News