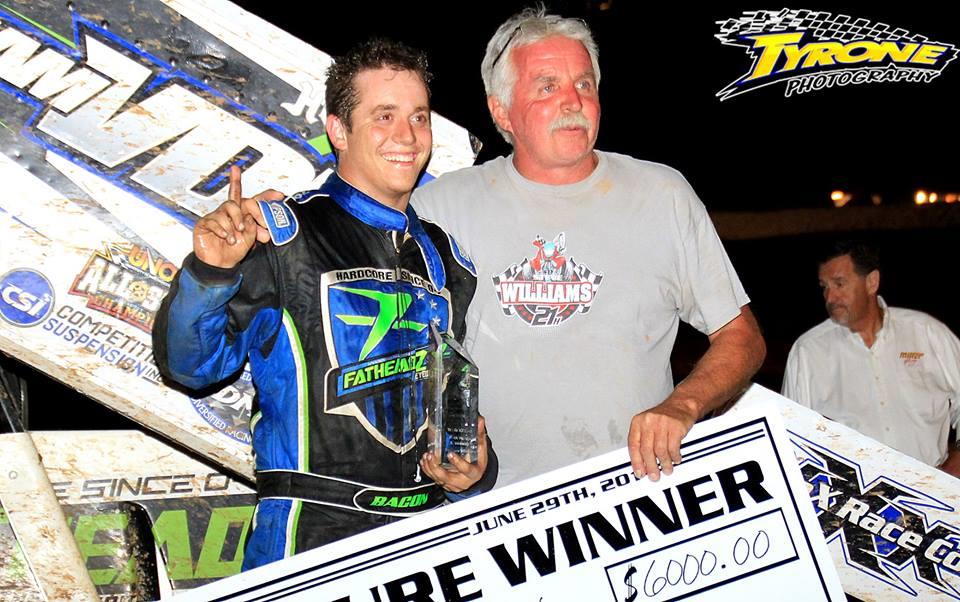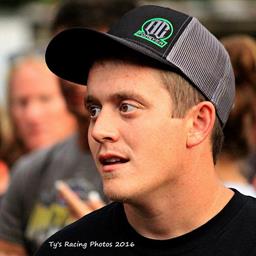 ---
Path Valley Win Headlines Busy Fortnight!
Brady Bacon – Path Valley Win Headlines Busy Fortnight!
(Bill W) July 8, 2014 – If there's anyone racing more than Brady Bacon right now, please stand up! The Broken Arrow, Oklahoma driver has five scheduled days off in the entire month of July. Today happens to be one of them, so time to get caught up on his last ten races or so! Highlights included making noise with a win at Path Valley Speedway during Pennsylvania Speedweek, and finishing second at Lincoln Speedway. He'll be competing in the Brady Bacon Racing #99 tomorrow night at the Brad Doty Classic at Limaland Motorsports Park, before heading to Indiana Sprintweek, where he is hoping to maintain his USAC point lead in the Hoffman Racing #69 sprint car.
June 25 found Brady at Atomic Speedway near Chillicothe for Ohio Speedweek. A massive group of cars was assembled on the high banks. "We were third quick at Atomic with 63 cars, so that was great," he says. "We got through the heat and ran fifth in the Dash. We were running eighth or ninth with about ten laps to go and got run over. We were going to get a top ten, which was really good with all of that competition."
Brady also found speed despite a late qualifying pill the following night at Fremont Speedway. "We went out really late at Fremont, like usual, and we were able to get 13th quick," he says. "I don't think anyone was that quick the last half of the race. We started tenth in the feature, and we were passing for seventh when we had a flat tire. We went to the tail, and it was tough to come from the back from there (he checkered 15th). The speed was there though."
It was time to head East on Friday, June 27, where Pennsylvania Speedweek kicked off at Williams Grove Speedway near Mechanicsburg. "We had an issue in qualifying, but we came back to run fifth in the heat after starting seventh," says Brady. "We started 19th in the A, and it's tough to make up ground from there. We were just getting some laps in. I think Lance Dewease finished two or three spots in front of me, so that made me feel a little bit better."
Brady asserted himself the following night at Lincoln Speedway near Abbottstown. "We were pretty good all night," he says. "We qualified early and we were fifth quick. We made it out of the heat and started fifth in the feature. We rode around the first part of the race. It was kind of hard to pass. People started making mistakes in the front, and we were able to capitalize on them. There were a couple of guys that crashed and then I was able to get by a guy for second. I probably had the car to win if I had a little more familiarity with the racetrack and how it raced. Still, to finish second was really good at a place like that."
Fred Rahmer headed the promotions that Sunday night at Path Valley Speedway Park near Spring Run. "I felt good about Path Valley the whole time," says Brady. "I had been there in a micro once. I didn't really remember much, other than it was small. We went out 23rd or 24th to qualify and ended up fifth quick. We were able to make it out of the heat and that set us up starting fifth in the feature."
Brady drove a patient race to capture the $6,000 win. "We got to third pretty quick, and I was working on (Danny) Dietrich for second," he says. "The track was kind of changing at that point. (Brian) Montieth actually got by me for third, and he got beside Dietrich. That messed both of them up, and I was able to get by. The bottom started coming in really well and I was able to get by Lucas (Wolfe) in lapped traffic. I was running the top of one and two and the bottom of three and four, and I knew if I didn't mess up too bad, no one was getting by me."
The win built some momentum for Grandview Speedway near Bechtelsville. "It was slicker than I'd ever seen it with USAC," says Brady of the 3/8-mile oval. "We qualified decent with our Dash-12 motor in. I think it went as fast as it was going to go. That put us back a little bit. We finished second in the heat. If we would have won, we would have made the redraw, but as it was, we started tenth in the feature."
Brady would hold his own in the main event. "We were able to get up to seventh at one time," he says. "We were really good to start out, but the track slickened off quite a bit, and I was struggling at the end. We faded back to tenth. Watching those other guys, I think I'm figuring out what we need to do more and more. As we go to places more than once, if things go right, we're in contention to win or run up front. We felt good being up front with those guys for a while."
Brady had run at Hagerstown Speedway in Maryland on one other occasion before this year's Speedweek stop. "My previous trip was nothing like this one," he admits. "It had rained and it was pretty fast. I had a really good car again there. We qualified decent and won the heat. That put us in the redraw, and we drew an eight. I probably should have finished fourth or fifth, but those guys kind of schooled me on the restarts and the dirty air. I actually got by a couple guys, but they were able to move to the bottom and get back by me. I got messed up racing with someone and ended up eighth. I was pretty happy. I think our motors are running better than they were last year on the big tracks, and it's encouraging going into Knoxville in August."
Last Friday, Brady was back in the Hoffman #69 for USAC action at Lincoln Park Speedway in Putnamville, Indiana. "The track was a little different," he says. "There was grease on the bottom of the track in qualifying, and Bryan Clauson went out right before us. He was smart enough to run through it before me, and that messed my first lap up a bit. I messed the second one up myself, and I didn't get a good clean lap in (10th quick)."
Before things could get started, Brady found himself restarting at the tail of the main event after a tangle. "We were really good in the heat, and we started tenth in the feature," he says. "On the second lap, someone slid underneath me, and spun me out. We had to go to the tail, and the track got really heavy. From there, we weren't able to get back through there as far as we wanted to. We still got back to 13th but it was tough."
Brady teamed up with the Wilke-Pak #11 midget team for the Pepsi Nationals at Angell Park Speedway in Sun Prairie Wisconsin Saturday and Sunday. "We went out late for qualifying Saturday (timing 17th) which didn't help us a lot, but we won the heat," he says. "We got the car better for the heat, and it was really good in the feature. We kind of went back to what Wilke used to do there and I did as well. Even starting in the back, I thought we had a good shot at the top five. Unfortunately, we had a rear-end issue that took us out of the race."
Saturday, the car was better. After qualifying 14th and finishing sixth in the heat, he would start in row seven for the finale. "We were able to get up through there pretty quickly," says Brady. "With the competition there, we got up to a certain point where we were all the same speed. There was a tangle between (Tracy) Hines and (Michael) Pickens and we were able to get to fifth. We wound up finishing sixth. It was a decent comeback after starting that far back."
Brady is looking forward to tomorrow night's Brad Doty Classic with the Outlaws. "We're in the shop right now getting ready for the Doty," he says. "We had a rainout at Port Royal where the car was ready, so that helped a lot. I didn't know if I'd be able to make it if it wasn't ready. We made the show there last year, but got in a wreck, so we're hoping to do a lot better. At a race like that with that many cars, your draw can dictate a lot."
This weekend will mark the first half of Indiana Sprintweek with USAC. Three events are on the card starting Friday with I-69 Speedway in Gas City, Saturday at Kokomo Speedway and Sunday at Lawrenceburg Speedway. "We're definitely looking forward to Sprintweek," says Brady. "We have a solid package for all the tracks, and I'm excited about it. I'm hoping to have a solid Sprintweek and maintain a good point lead."
Follow Brady on his Website, Twitter and Facebook!
Follow Brady at his website located at www.BradyBaconRacing.com! Also keep up with him on Facebook and Twitter (which also can be accessed at the website) at the following links…
Twitter Link – http://twitter.com/BradyBacon
Facebook Link - www.facebook.com/pages/Brady-Bacon-Racing/278125555137
Partner of the Week – Smiley's Race Products
Smileys Racing Products and Hoosier Tire Southwest have been in the racing business for 30 years in the Dallas, Fort Worth area. Visit Smiley's, either in Kennedale, at the showroom store in Mesquite, or at the racetracks. All employees at Smiley's Racing Products and Hoosier Tire Southwest are directly involved with race teams either as owners, drivers, pit crew members etc. What this means to you our customers is racing advice that has been tested on the track first, and then they pass their findings on to the customer. From parts and tires to complete race cars, Smiley's Racing Products and Hoosier Tire Southwest is ready to help you get to the checkered flag first. All aspects of their business can be seen at www.SmileysRacing.com. Click on catalog and put your information in and you will be sent a catalog free of charge.
Associate Marketing Partner of the Week – Oilfield Equipment and Manufacturing
Oilfield Equipment and Manufacturing, headquartered in Shawnee, Oklahoma, specializes in quality oilfield services, drilling and steeping. Give them a call today at 405 275-4500!
Brady Bacon Racing would like the following sponsors for all their help: Fatheadz Eyewear, Tel-Star Communications, PPM Titanium Products, Triple X Race Components, Smiley's Racing Products, Heath Clips Lawn Care, VanDerBrink Designs, Keizer Aluminum Wheels, Eaton Industrial Coatings, Pattison Precision Products, Oilfield Equipment and Manufacturing, Butlerbuilt Seats, Hoosier Tire Southwest, Diversified Machine Inc., Brown and Miller Racing Solutions, Lightning Wings, Simpson, CP Pistons, Schoenfeld Headers, Carrillo Rods, Sweet Manufacturing, All Star Performance, King Racing, Schroth Racing, FSR Radiators and Fuel Safe.
The Hoffman #69 sprinter is sponsored by Mean Green, Mopar, Triple X Race Components, Hoosier, DMI, Lykins, Engler Machine & Tool, Goodridge Fluid Transfer Systems, KSE, MPD Racing, CSI Shocks, XYZ Machining, Saldana Racing Products, Fuel Safe Racing Cells, Fastener Specialty Motorsports, Wilwood Brakes, Joe Gibbs Driven Racing Oil, Zemco Headers, Chalk Racing Products and Weld.
Attached: Brady in Victory Lane at Path Valley accepting the $6,000 winner's check from Fred Rahmer (Tyrone Photography)
Bill W Media
Monroe, IA USA
Twitter: @BillWMedia
e-mail: sprntcar@iowatelecom.net
---
Article Credit: Bill W
Submitted By: Brady Bacon
Back to News