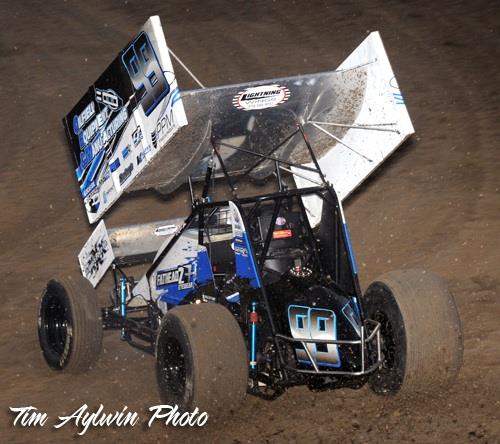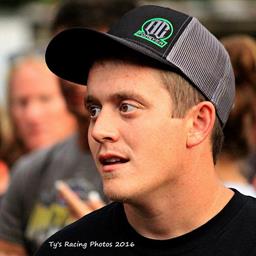 ---
Brady Bacon – Four Crown This Weekend!
(Bill W) September 19, 2012 – Brady Bacon will be piloting the PPM Titanium/Infinity Shocks sprint car and midget this weekend at Eldora Speedway's USAC Four Crown this Saturday night! The Broken Arrow, Oklahoma driver is coming off a top five finish in the first sprint car show in many years at the Texas Motor Speedway Dirt Track near Dallas.
The Lucas Oil ASCS National Series saw forty cars in attendance in Dallas. Brady did well enough in his heat to qualify for the feature. "It was a little tough to pass in the heat," he says. "Everything was up top. There was a bit on the bottom in one and two. We were able to get from fifth to third. I kind of got slowed up once a little bit and that cost us a lot of time. Unfortunately, that was only good enough to start fourteenth in the feature."
The accompanying program saw over 200 modifieds in attendance, but the track stayed racy for the main event. "The track was tricky," says Brady. "It was a real momentum deal. If you lost it, you were done for a lap at least. We were able to sneak around the bottom of one and two a couple of times and that's where we passed everybody."
Brady was able to surge and catch the leaders using the low side. "We should have finished fourth, but we had some trouble in lapped traffic," he says. "I had one guy that I was getting ready to slide, and he just turned down the racetrack. (Travis) Rilat got back around me for fourth at that point."
He would checker fifth. "We were the only ones to make things happen on the bottom, and that's how we were able to pass cars," says Brady. "I don't think a lot of cars finished, but we passed them before they fell out. It was really cool. It's an awesome facility. The track was a lot better than I thought it would be considering how many cars were there (including the modifieds). There was a good cushion on top to grab a hold of."
All in all, it was a solid night for the Brady Bacon Racing #99 team. "There was a little rubber up top late in the race, so I wasn't able to pass anyone at that point," he says. "They had that extra drive off the top. It was a good night…a top five from 14th on a track that wasn't lending too much passing."
Brady is excited to grab his first win at Eldora Speedway, located near Rossburg, Ohio. "We've got a midget ready here, and of course, we'll be running the sprint car portion too," he says. "The first time I ran it, I think I finished third in Keith Kunz car. I think I've run second there in a sprint. I think we'll be alright."
Follow Brady on his Website, Twitter and Facebook!
Follow Brady at his website located at www.BradyBaconRacing.com! Also keep up with him on Facebook and Twitter (which also can be accessed at the website) at the following links…
Twitter Link – http://twitter.com/BradyBacon
Facebook Link - www.facebook.com/pages/Brady-Bacon-Racing/278125555137
Partner of the Week – Keizer Aluminum Wheels
We are the Keizer of Racing wheels!!! Keizer Aluminum Wheels Inc. is proud that in our 35 year history we are still 100% made in the USA. From very long and humble beginnings to our current Keizer state we have continued this practice. In 2009, we completed our onsite heat treat plant which allowed us to be 100% self sufficient. We thank all our customers that appreciate our hard work and sacrifices for speed in the USA. Don't be stuck on a name; be stuck on product, service and the people behind it. Is the wheel of yesterday still slowing you down? Weigh us!!!!!! Don't assume!!! Try us!!! Our wheels are designed for longevity and performance. Take a look at the leader in race wheel market of today! Visit Keizer Wheels online at www.KeizerWheels.com!
Associate Marketing Partner of the Week – ButlerBuilt Professional Seat Systems
No matter the form of motorsports, ButlerBuilt's leadership makes it the most successful seat in the industry! Winners utilizing ButlerBuilt in the last two weeks span a wide range of motorsports: Kyle Busch, Bubba Pollard, Tyler Walker, Jonathan Allard, Brady Short, Jason Sides, Josh Fisher, Shannon McQueen, Wayne Johnson, Bud Kaeding, Jessica Zemken, Lynton Jeffrey, Jason Johnson, Brooke Tatnell, Levi Jones and many more! To learn more about the Butler Advantage, visit www.ButlerBuilt.net today!
Brady Bacon Racing would like the following sponsors for all their help: Fatheadz Eyewear, Oilfield Equipment and Manufacturing, Tel-Star Communications, PPM Titanium Products, Triple X Race Co., Infinity Shocks, Smiley's Racing Products, Heath Clips Lawn Care, Keizer Aluminum Wheels, Tru-Square, Eaton Industrial Coatings, Pattison Precision Products, Wesmar Racing Engines, Butlerbuilt Seats, Hoosier Tire Southwest, Diversified Machine Inc., Brown and Miller Racing Solutions, Lightning Wings, Simpson, Pro Pan, CP Pistons, Schoenfeld Headers, Carrillo Rods, KSE Steering, All Star Performance, King Racing, Schroth Racing, FSR Radiators, Three-wide Clothing and Fuel Safe.
---
Article Credit: Bill W
Submitted By: Admin Account
Back to News