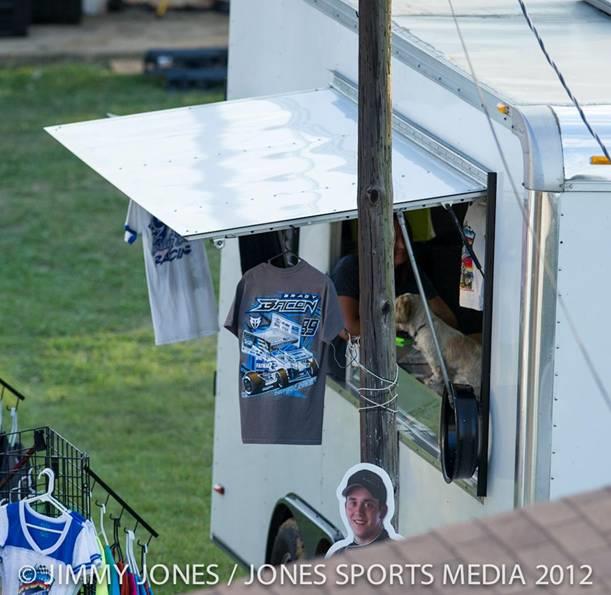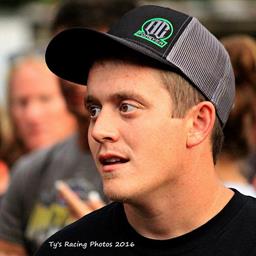 ---
Brady Bacon – Top Fives Set up Dodge City!
(Bill W) August 29, 2012 – Brady Bacon registered a pair of top five finishes with the Lucas Oil ASCS National Series last Friday and Saturday nights. On Friday, he finished fifth on the High Banks of Salina (OK) Speedway, and on Saturday, he checkered with the same finish at the I-30 Speedway near Little Rock, Arkansas. Saturday and Sunday, the Broken Arrow, Oklahoma driver will tackle Dodge City Raceway Park in Kansas.
Brady would start on the pole in his heat at Salina. "It was a race close to home, so that is always good," he says. "It is fast and high-banked…and they had a little rain, so it was heavy. It was kind of one-lane and hard to pass. The man on the outside got the jump with the banks, so I got in line in second after the start."
The redraw saw Brady start outside of row four. "We were able to get up to fifth," he says. "We were there pretty much the whole race. I had some power steering issues with the track being so banked and fast. We actually had a pretty good car, but we had some problems affecting us."
This trip to Salina went better than the last. "We weren't good there last time, so I was happy with fifth place," says Brady. "We headed on over to Little Rock from there. We were worried about the weather a bit. It looked like it was going to rain, but luckily it didn't."
Brady is usually good at Little Rock, and he moved from seventh to second in his heat on Saturday. "We were high point car after the heat," he says. "We passed some cars, and there were some crashes. We were pretty good."
Again the redraw was not kind, and he started seventh. "We got up to fourth, and kind of stalled out," says Brady. "(Tim) Crawley was able to get by us at the end of the race. The track was a little different than normal. It had rained, so it built a big cushion…bigger than normal."
That proved to be the fastest way around the ¼-mile oval. "The bottom wasn't quite as good as normal," says Brady. "It took me a little more time than it should of to move up. Sometimes that's my downfall, but I've won a lot of races on the bottom. It does make me a lot of money, but it bites me sometimes too."
Brady will stop to help honor the late Donnie Ray Crawford by donating some items to a silent auction and catching some mini-sprint action before heading to Dodge City. "We're going out to Port City Raceway on Thursday and Friday," he says. "We're going to watch the first couple nights of the Donnie Ray Crawford Memorial. Saturday morning we'll head to Dodge City."
Follow Brady on his Website, Twitter and Facebook!
Follow Brady at his website located at www.BradyBaconRacing.com! Also keep up with him on Facebook and Twitter (which also can be accessed at the website) at the following links…
Twitter Link – http://twitter.com/BradyBacon
Facebook Link - www.facebook.com/pages/Brady-Bacon-Racing/278125555137
Partner of the Week – Infinity Shocks
Infinity Shocks, is a full service factory authorized Pro Shocks rebuild and repair center, located in Kokomo, Indiana. Infinity Shocks offers Dyno testing for ANY brand of shock absorber. From Quarter midgets to Silver Crown, from micros to World Of Outlaws. Infinity Shocks has the endless consistency to build THE BEST Shocks every day. Call them today at 765(865-1073), or visit their Facebook page at http://www.facebook.com/pages/Infinity-Shocks/158799684167636#!/pages/Infinity-Shocks/158799684167636!
Associate Marketing Partner of the Week – Fuel-Safe Tanks
From the high banks of Daytona to the low groove at Knoxville, Laguna Seca's corkscrew to Baja's torturing elements Fuel Safe has provided the safest, most dependable fuel cells and accessories for championship winning teams and drivers around the world. Fuel Safe's ongoing commitment to quality and service is number one. Our ongoing research and development pays off as we discover new and improved ways to make our products stronger, lighter and safer. At Fuel Safe we are continually striving to compliment our product line with courteous and knowledgeable customer service personnel to better serve your racing needs. Regardless of your type of racing, whether it is road, circle, off road, vintage, dirt or drag we will provide you with the best fuel cell for your application. Fuel Safe is the official fuel cell of PRI; American Sprint Car Series NW Region; O'Reilly All Star Circuit of Champions. Visit them on the web at www.FuelSafe.com!
Brady Bacon Racing would like the following sponsors for all their help: Fatheadz Eyewear, Oilfield Equipment and Manufacturing, Tel-Star Communications, PPM Titanium Products, Triple X Race Co., Infinity Shocks, Smiley's Racing Products, Heath Clips Lawn Care, Keizer Aluminum Wheels, Tru-Square, Eaton Industrial Coatings, Pattison Precision Products, Wesmar Racing Engines, Butlerbuilt Seats, Hoosier Tire Southwest, Diversified Machine Inc., Brown and Miller Racing Solutions, Lightning Wings, Simpson, Pro Pan, CP Pistons, Schoenfeld Headers, Carrillo Rods, KSE Steering, All Star Performance, King Racing, Schroth Racing, FSR Radiators, Three-wide Clothing and Fuel Safe.
---
Article Credit: Bill W
Submitted By: Admin Account
Back to News