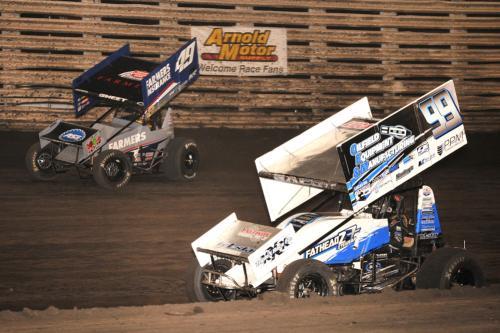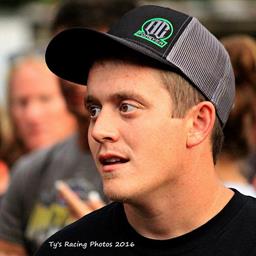 ---
Brady Bacon – On the Podium at the 360 Nationals!
(Bill W) August 6, 2012 – Brady Bacon added another feather to his cap at Knoxville Raceway, finishing third on Saturday night at the Knoxville 360 Nationals! It was a solid week for the Broken Arrow, Oklahoma driver that also included action in Sunday's "Capitani Classic" with the 410's at Knoxville. He will head to the Southern Iowa Speedway tonight and tomorrow night for the USAC Ultimate Challenge, where he hopes to climb one spot from his second place finish a year ago.
Brady's week started Thursday night in his 360 Nationals prelim. He timed in second quick out of the 56 cars assembled. "We were fortunate with the pill draw this weekend," he says of an early draw for qualifying. "We obviously had a good car too, to qualify second. We were good in hot laps, in qualifying and in the heat. We finally got to where we can roll around this place really well. I think we qualified around 35th last year, so the changes we made definitely helped."
Starting sixth in his heat, he would surge to a third place finish and a transfer to the prelim main event. "It's tough to make those transfer spots, because there are so many good cars," he says. "We were fortunate enough to get up there and finish third to get us in the feature. That puts you in good position for Saturday too."
Starting eighth, he spent much of the race in the top five, but would checker seventh. "At that point, we were trying to get to where we could roll the top," says Brady. "It seems we lose time up there more than other people. We were actually running fifth. On the last caution, I think my tires sealed up a little bit. We lost some traction and fell back to seventh. But that put us on the second row for the feature on Saturday."
Starting outside row two for Saturday's championship event, Brady spent much of the contest dueling with former KKR teammate Kevin Swindell for second. "We were racing pretty close," he says. "That is nothing out of the ordinary with racing at Knoxville. We had a really good car. Obviously, so did Shane (Stewart) and Kevin. Once we got strung out, it was tough. You can't let Shane get a lead like that. He isn't going to make mistakes, and you aren't going to catch him."
The duel with Kevin had the attention of the fans, and Brady would finish third. "Kevin and I were struggling in the same spots," he says. "It was getting a little rough on the top of three and four and we got over the cushion a couple of times. I was really pleased with everything though. Motor was running great and the car was running great. A top three at that race…you have to be happy with that! Also, it's just a good start for this week."
Sunday's "Capitani Classic" started in inauspiciously. "We had a rear-end failure in hot laps before we could get going," says Brady. "In qualifying, it was really hard to see coming off of turn two halfway down the backstretch. I really didn't know what to do after not getting practice, so I just committed to the bottom and we were fortunate to get a good lap in (5th quick of 67 cars). That was reassuring."
A DNF in the heat would send Brady to the B. "We had a throttle linkage issue in the heat," he says. "It kept backing the throttle off wide open. The butterflies weren't wide open when the throttle was. They kept backing off. The throttle linkage actually broke and we were done."
Brady represented Oklahoma in the "Dash of the States". He would finish seventh. "We struggled the first few laps of the Dash," he says. "It was an opportunity to try some things on the top and bottom. By the end of the race, we were pretty good. That helped us in the B (which he won)."
Starting 19th in the main event, Brady ran a bit and decided to save his equipment for the Nationals. "By the time the feature rolled around, I had put a full night on my motor and we had used up some tires," he says. "I just didn't want to take a chance of destroying a brand new car. We felt the car out, and weren't making a lot of progress so I pulled it in to save it for this week."
Last year, Brady finished second to Kyle Larson in the Ultimate Challenge. He hopes to reverse that, starting tonight. "I'm really excited about the Ultimate Challenge," he says. "We ran second there last year, and I think we definitely have a shot to win it. We'll see how well it goes."
Things will get underway for Brady at the Knoxville Nationals on Wednesday night. "I hope my luck continues in the draw," he admits. "We've got the wing car ready to go. I'd like to lock into Saturday night so we don't have to mess with Friday!"
Follow Brady on his Website, Twitter and Facebook!
Follow Brady at his website located at www.BradyBaconRacing.com! Also keep up with him on Facebook and Twitter (which also can be accessed at the website) at the following links…
Twitter Link – http://twitter.com/BradyBacon
Facebook Link - www.facebook.com/pages/Brady-Bacon-Racing/278125555137
Partner of the Week – Tel-Star Communications
Tel-Star Communications, Inc. is a personal communications service company. Tel-Star Communications was formed in October of 2000 to bring you the highest quality service available in this complex market of communications. With over 50 years of combined experience, Tel-Star Communications brings you the highest expertise and diversity this market has to offer. Each technician has been trained, tested and authorized by the system manufacturer in telephone design, installation, programming, training, troubleshooting, and system maintenance and repair. Our number one priority is Customer Service and we feel that what we provide is unparalleled with any other service company. Tel-Star Communications will work on any job and will always do it cost effectively. Our philosophy is based on best cost, best product, and what is best for our customer. Visit Tel-Star Communications on the web at www.Tel-StarCommunications.com!
Associate Marketing Partner of the Week – FSR Race Products
The products used from FSR include engine mount radiators and an engine block heater that runs off 110 volts. FSR Radiator wants to insure the highest level of customer service by meeting your product needs. They are dedicated to Ground Support Equipment and understand the high demands of the industries they are involved in. They specialize in building radiators and fuel tanks for tug and beltloader applications. They also build forklift, push-back and other GSE radiators. Their radiators are designed to fit! No Universal Applications! Plus, all of their radiators come with a ONE YEAR WARANTY! Visit them on the web at www.fsrradiator.com!
If you would like to receive Brady's weekly releases, send an e-mail to sprntcar@hotmail.com with the subject "Brady".
Brady Bacon Racing would like the following sponsors for all their help: Fatheadz Eyewear, Oilfield Equipment and Manufacturing, Tel-Star Communications, PPM Titanium Products, Triple X Race Co., Infinity Shocks, Smiley's Racing Products, Heath Clips Lawn Care, Keizer Aluminum Wheels, Tru-Square, Eaton Industrial Coatings, Pattison Precision Products, Wesmar Racing Engines, Butlerbuilt Seats, Hoosier Tire Southwest, Diversified Machine Inc., Brown and Miller Racing Solutions, Lightning Wings, Simpson, Pro Pan, CP Pistons, Schoenfeld Headers, Carrillo Rods, KSE Steering, All Star Performance, King Racing, Schroth Racing, FSR Radiators, Three-wide Clothing and Fuel Safe.
Attached: Brady battles with Brad Sweet at Knoxville (Rob Kocak Photo)
---
Article Credit: Bill W
Submitted By: Admin Account
Back to News