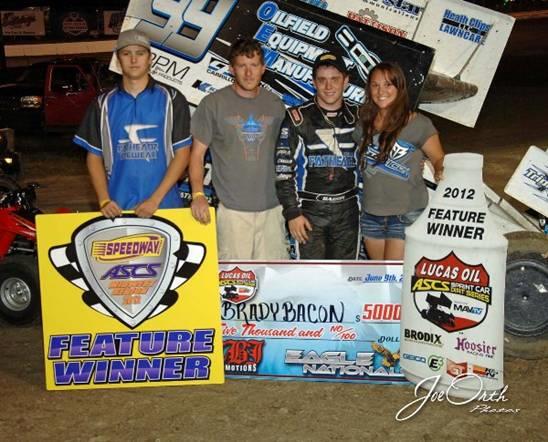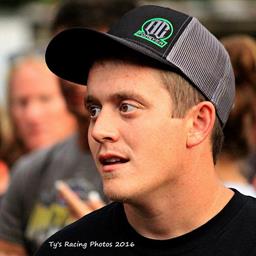 ---
Brady Bacon – Eagle Sweep!
(Bill W) June 11, 2012 – Brady Bacon continued his winning ways by not only winning the $5,000 finale of the Eagle Nationals Saturday night, but sweeping the weekend at the 1/3-mile oval. In doing so, he pulled within five points of the lead in the Lucas Oil ASCS National Series. The series has a busy week in store with seven races over nine days beginning this Friday and Saturday night at the Devil's Bowl Speedway near Mesquite, Texas.
The shows at Eagle drew a stout field of sprint cars and a good crowd. "The track had been taking rubber the past few weeks with the local shows," says Brady. "They did a good job of keeping water on the track and keeping it racy. It was really racy on Friday. We had the top and the bottom in the heats and in the feature."
After winning his heat from the pole, the redraw saw Brady starting the main event inside of row four. "One and two was pretty tricky on the bottom," he says. "There was a hump getting into turn one, that would push you up the track if you weren't real careful. The top was pretty standard Eagle. It was fast all the way up to the wall."
His charge forward would continue, and he would take the lead from Brad Loyet on lap twelve. "We were actually best on the top of one and two, and the bottom of three and four was really good," says Brady. "The cushion was a little over halfway up the track in three and four, but it was a big one, so we stayed mostly on the bottom except in traffic."
The Broken Arrow, Oklahoma driver was on his game last weekend. "The car was just dead on Friday," he says of the Brady Bacon Racing #99. "We could go anywhere we wanted to. Saturday was no different."
Brady drew a starting spot outside of row one, but it was Jack Dover who got the jump at the green. "(Dover) got in front of us," he says. "We actually got by him for what felt like three laps. We had a yellow, and they put us back behind him. In open track, we were able to get back by him fairly quickly (lap 17)."
At that point, Brady was gone. "We started pulling away," he says. "We were really getting through lapped traffic well. Right around the bottom of one it was a little rough. The ruts were an issue, but our car got through them really really well. In three and four, it was good on the bottom again."
The margin of victory left no doubt who dominated the weekend. "We ran through the middle on both ends a few times too," says Brady. "Obviously, the car was working really well again. Some seemed to struggle down low, but our car was perfect. We won by about seven seconds."
The wins put Brady in position to contend for the point lead with ASCS. ASCS Speedweek begins with the Summer Nationals this Friday and Saturday night at the Devil's Bowl Speedway near Mesquite. It will then continue in Chatham, Louisiana (Monday), Murfreesboro, Arkansas (Tuesday), Lawton, Oklahoma (Wednesday) and Salina, Oklahoma (Friday). "We're in third, but we're only five points out of the lead," he says. "It's a close race. We've got a lot of races again. We're used to that, but this time we get to do it with the same kind of racecar. That's almost like a break!"
Follow Brady on his Website, Twitter and Facebook!
Follow Brady at his website located at www.BradyBaconRacing.com! Also keep up with him on Facebook and Twitter (which also can be accessed at the website) at the following links…
Twitter Link – http://twitter.com/BradyBacon
Facebook Link - www.facebook.com/pages/Brady-Bacon-Racing/278125555137
Partner of the Week – Smiley's Race Products
Smileys Racing Products and Hoosier Tire Southwest have been in the racing business for 30 years in the Dallas, Fort Worth area. Visit Smiley's, either in Kennedale, at the showroom store in Mesquite, or at the racetracks. All employees at Smiley's Racing Products and Hoosier Tire Southwest are directly involved with race teams either as owners, drivers, pit crew members etc. What this means to you our customers is racing advice that has been tested on the track first, and then they pass their findings on to the customer. From parts and tires to complete race cars, Smiley's Racing Products and Hoosier Tire Southwest is ready to help you get to the checkered flag first. All aspects of their business can be seen at www.SmileysRacing.com. Click on catalog and put your information in and you will be sent a catalog free of charge.
Associate Marketing Partner of the Week – Carrillo Rods
Uncover the rich tradition of innovation; revealing unprecedented piston and connecting rod manufacturing achievement. CP Pistons and Carrillo industries have joined forces with one goal in mind: offer high quality performance products with excellent customer service. Visit CP-Carrillo online at www.CP-Carrillo.com!
If you would like to receive Brady's weekly releases, send an e-mail to sprntcar@hotmail.com with the subject "Brady".
Brady Bacon Racing would like the following sponsors for all their help: Fatheadz Eyewear, Oilfield Equipment and Manufacturing, Tel-Star Communications, PPM Titanium Products, Triple X Race Co., Infinity Shocks, Smiley's Racing Products, Heath Clips Lawn Care, Keizer Aluminum Wheels, Eaton Industrial Coatings, Pattison Precision Products, Wesmar Racing Engines, Butlerbuilt Seats, Hoosier Tire Southwest, Diversified Machine Inc., Brown and Miller Racing Solutions, Lightning Wings, Simpson, Pro Pan, CP Pistons, Schoenfeld Headers, Carrillo Rods, KSE Steering, All Star Performance, King Racing, Schroth Racing, FSR Radiators, Three-wide Clothing and Fuel Safe.
---
Article Credit: Bill W
Submitted By: Admin Account
Back to News