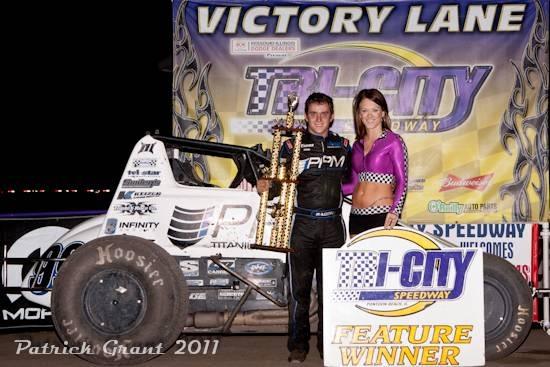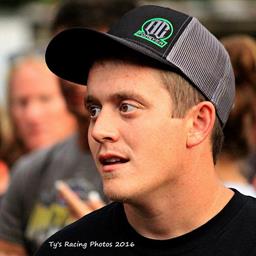 ---
Brady Bacon – Victory at the Gold Crown!
(Bill W) October 11, 2011 – Brady Bacon scored a win in the sprint car portion of the Gold Crown weekend at the Tri-City Speedway near Granite City, Illinois last Friday night. The weekend also saw a fourth place finish on Thursday, and a second place run on Saturday that just fell short of another victory. This weekend, the Broken Arrow, Oklahoma driver competes in the Lonestar Speedway Nationals with the Lucas Oil ASCS National Series in Kilgore, Texas.
Brady drew outside row four for his heat race on Thursday night at Tri-City. "It was really dry on night one," he says of the track. "I was trying some different things on the car and it didn't work. We had a little trouble in the heat race, and we spun out. We were able to come back up to fifth."
Starting tenth in the main event, Brady surged forward on the 3/8-mile banked oval. "We worked our way up and got to third," he says. "We were just a little too tight down on the bottom, and we were pushing off of it. Mike Hess was able to get by us, and we finished fourth."
Friday's races started well, with a heat win after starting in row two. "The track was perfect all night," says Brady. "There was a top and a bottom in the heat. We started third there, and we were able to get by Levi Jones."
Though the feature would end in a win, it didn't look that way at the outset. "We had about the worst first two laps that we've ever had in a race," says Brady. "I fell back a ton. I thought the track was a little stickier than it was. I went too hard into one and two, and then again in three and four. I got stuck in the middle in one and two again."
Finally, things started moving forward. "We were able to get back up top and get going," says Brady. "We were back up to third, and then I was able to get by Levi by working the bottom a little in each corner."
The leader, Jerry Coons Jr., was the next target. "We got Jerry when he missed the bottom a little and I was able to get by," says Brady. "I was able to go back to the top and maintain the lead. We had some restarts, and (Casey) Shuman was close enough to do a big slidejob on me. That cut my momentum, and I had to turn underneath him. Levi was right there on the inside, and we slid back and forth."
An exciting finish saw Brady beat his two counterparts to the finish. "I went back to the bottom and I was able to block Shuman a bit," he says. "I had to go really slow. I'm sure he was really frustrated with that, but I couldn't let him pass me. Levi about got around both of us on top, but we were able to hold on. The car was really good off of turn four."
Saturday's finale saw another heat win from row two, and another good feature race. "It was a good racetrack for us again," says Brady. "We started third again and I dropped back to fourth. I was able to slide the middle the first couple laps and then I moved to the top. We had a couple of cautions, and I had to slide the guys in front of me to get back up there. I got to Jerry (second) and we went back and forth a couple of laps."
It was time to try to chase the leader down. "(The battle with Coons) let Levi get away from us," says Brady. "Once I got by Jerry, I ran Levi down from about a straightaway behind, but he was getting through lapped cars and I ran out of time. I just didn't have enough to clear him with a late slider there. I think we had the best car. Things just didn't fall our way."
This weekend's $12,000 to win Lonestar Sprint Nationals will commence Thursday through Saturday nights. "It was a half-mile the last time we were there," Brady says of the facility outside of Kilgore, Texas. "It was a little big for us then, so hopefully, we can get it going."
Follow Brady on his Website, Twitter and Facebook!
Follow Brady at his website located at www.BradyBaconRacing.com! Also keep up with him on Facebook and Twitter (which also can be accessed at the website) at the following links…
Twitter Link – http://twitter.com/BradyBacon
Facebook Link - www.facebook.com/pages/Brady-Bacon-Racing/278125555137
Partner of the Week – Tel-Star Communications
Tel-Star Communications, Inc. is a personal communications service company. Tel-Star Communications was formed in October of 2000 to bring you the highest quality service available in this complex market of communications. With over 50 years of combined experience, Tel-Star Communications brings you the highest expertise and diversity this market has to offer. Each technician has been trained, tested and authorized by the system manufacturer in telephone design, installation, programming, training, troubleshooting, and system maintenance and repair. Our number one priority is Customer Service and we feel that what we provide is unparalleled with any other service company. Tel-Star Communications will work on any job and will always do it cost effectively. Our philosophy is based on best cost, best product, and what is best for our customer. Visit Tel-Star Communications on the web at www.Tel-StarCommunications.com!
Brady's Releases
If you would like to receive Brady's weekly releases, send an e-mail to sprntcar@hotmail.com with the subject "Brady".
Brady Bacon Racing would like the following sponsors for all their help: Fatheadz Eyewear, Oilfield Equipment and Manufacturing, Tel-Star Communications, PPM Titanium Products, Triple X Race Co., Keizer Aluminum Wheels, Smiley's Racing Products, Wesmar Racing Engines, Butlerbuilt Seats, Hoosier Tire Southwest, Diversified Machine Inc., Brown and Miller Racing Solutions, Lightning Wings, Simpson, Pro Pan, CP Pistons, Carrillo Rods, KSE Steering, King Racing, Schroth Racing, TI22 Performance, FSR Radiators, Three-wide Clothing, Fuel Safe and Colonial Fiberglass.
*Photo By Patrick Grant
---
Article Credit: Bill W
Submitted By: Admin Account
Back to News