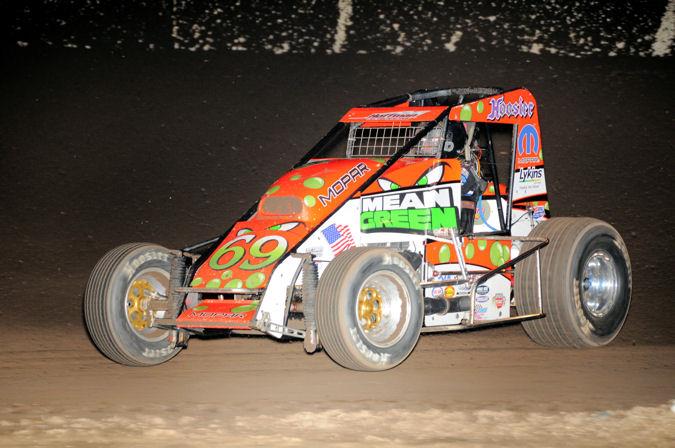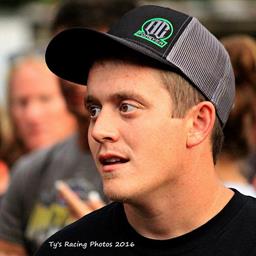 ---
Brady Bacon – Haubstadt Charger!
(Bill W) September 21, 2011 – Brady Bacon spent his first night in the famous Hoffman family #69 with USAC/MSCS at the Tri-State Speedway near Haubstadt, Indiana on Saturday night. The result was a great run from 19th to 5th in the 50-lap feature. This weekend, the Brady Bacon Racing #99 team gets back with the Lucas Oil ASCS-National tour for the Daniel McMillin/Jesse Hockett Memorial at the Lucas Oil Speedway near Wheatland, Missouri.
The race at Haubstadt was the first of two events that Brady will be driving for the Hoffman team. "I'd really like to than the Hoffman Racing Team for letting me drive the car," he says. "I'm looking forward to driving for them at the Oval Nationals also."
Using the draw system, Brady drew the third row for his heat. "We were just too far back in the heat race," he says. "We finished sixth. I was about to pass a guy and he got bottled up in front of me. Some guys got by me there. It was a tough heat…Levi Jones, Bryan Clauson, Chris Windom, Wes McIntyre, Blake and Braylon Fitzpatrick were all in it."
The heat finish put the Broken Arrow, Oklahoma native deep (12th) in the B main. It wasn't long before he was in a transfer spot. "They worked the top a little bit," he says of the banked ¼-mile oval. "It wasn't a total redo, just minor. We got a good start and got by a couple of them. They took six. We ran fifth for a while behind Windom. We finally got by him, and then we got another spot to third."
The #69 team had things setup perfectly for the 50-lap feature event. Brady would start 19th. "They kept changing things to get me comfortable," he says. "We had to change the mag between the B and the A. We got really good in the feature. The leaders catch you quick in lapped traffic, so we really had to get going. You need to keep passing cars, because you can go down a lap pretty easily. We were a little tight at the beginning with the full fuel load, but we got going."
Using his customary bottom groove, Brady sliced his way through the competition. "It was 50 laps, so we had some time to move up," he says. "We were steadily moving up, and we had a caution with about 20 to go. We were able to get by the group in front of us. At the end of the race, we were running down second, third and fourth."
The result was a well-earned fifth place finish. "We ran the bottom all night," says Brady. "As it slicked off, we slowly became the only car that could run down there. We were able to get by people coming off of turns two and four. We just got better and better as the track slicked off."
The Daniel McMillin/Jesse Hockett Memorial this weekend will see Brady's first ASCS-National action since the Jackson Nationals on August 20. He enters the weekend fourth in points, and with confidence from last year's event. "We're looking forward to Wheatland," he says. "We had a really good car there last year, and led most of the race. We ended up third, so we'd like to improve that a couple of positions this weekend at least one of the nights."
Follow Brady on his Website, Twitter and Facebook!
Follow Brady at his website located at www.BradyBaconRacing.com! Also keep up with him on Facebook and Twitter (which also can be accessed at the website) at the following links…
Twitter Link – http://twitter.com/BradyBacon
Facebook Link - www.facebook.com/pages/Brady-Bacon-Racing/278125555137
Partner of the Week – Fatheadz Eyewear
Made especially for larger heads, extra wide to fit even the biggest heads, Fatheadz Eyewear is a leader in the industry. Whether you need sunglasses or prescription eyewear, Fatheadz has a variety of frames to choose from. Buy oversize Fatheadz sunglasses online at www.Fatheadz.com and save!
Brady's Releases
If you would like to receive Brady's weekly releases, send an e-mail to sprntcar@hotmail.com with the subject "Brady".
Brady Bacon Racing would like the following sponsors for all their help: Fatheadz Eyewear, Oilfield Equipment and Manufacturing, Tel-Star Communications, PPM Titanium Products, Triple X Race Co., Keizer Aluminum Wheels, Smiley's Racing Products, Wesmar Racing Engines, Butlerbuilt Seats, Hoosier Tire Southwest, Diversified Machine Inc., Brown and Miller Racing Solutions, Lightning Wings, Simpson, Pro Pan, CP Pistons, Carrillo Rods, KSE Steering, King Racing, Schroth Racing, TI22 Performance, FSR Radiators, Three-wide Clothing, Fuel Safe and Colonial Fiberglass.
Photo - Attached: Brady in the Hoffman #69 at Haubstadt (TWC Photo)
---
Article Credit: Bill W
Submitted By: Admin Account
Back to News