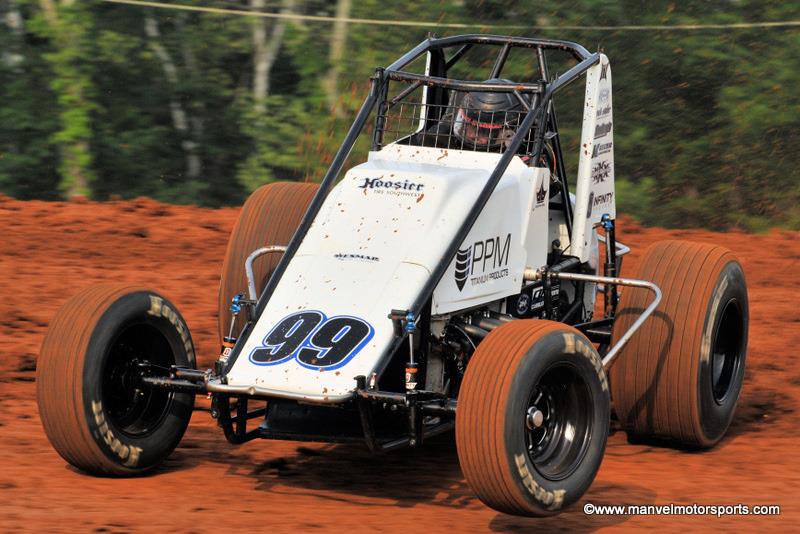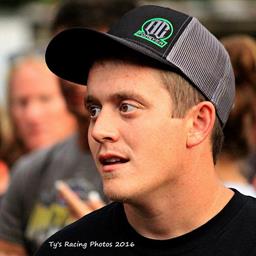 ---
Brady Bacon – Hosed at Lawrenceburg!
(Bill W) October 4, 2011 – After setting quick time and charging forward in the feature, Brady Bacon was closing in on a bid for $10,000 last Saturday night at the Lawrenceburg Speedway. The event was sanctioned by USAC and MSCS, and saw the Broken Arrow, Oklahoma driver sidelined by a blown hose during a late red flag. Brady is looking for a midget ride for this weekend at the Gold Crown event at the Tri-City Speedway near Granite City, Illinois. As it is, he's planning on running the sprint car portion only.
Brady set quick time at Lawrenceburg by almost two-tenths of a second on the high-banked 3/8-mile oval. "We were able to get quick time by a good ways," he says. "It looked early like it was going to be way too hard out there and get slick. The bottom stayed good in the feature, but it usually takes a while. You could run top, bottom or middle in the feature, and that's all you can ask for."
The heat saw Brady Short, Levi Jones, Casey Riggs, Jon Stanbrough and Bryan Clauson starting in the first five slots, with Brady sixth. "Unfortunately, we had a stacked heat there," he says. "There was an invert of six and they only took four to the feature. Bryan Clauson was the only one we were able to get by, so fifth sent us to the B main. Regardless of how slick it is, the track is always fast in the heats and that makes it tough to pass."
Brady won the B and got ready for the main event. "The car was good in the B," he says. "We made some adjustments to the car, and we were able to start seventh in the A."
The Brady Bacon Racing #99 was good, and navigated both high and low to move towards the front. "We were working our way up to the front there," says Brady. "We were running up top the first part of the race and then it started going away. The bottom was coming back in."
Making his customary bottom work, Brady sized up some more of his competition that was running second and third. "We had gotten up to fourth and we were catching Levi Jones and Hunter Schuerenberg," he says. "(Leader) Jonathan Hendrick got involved in a crash and they had a red."
That's when Brady's race ended while he was sitting still. "We had a water hose blow out," he explains. "That ended the night right there. It was unfortunate, because I feel we had the fastest car there. The pressure just built up in it sitting there. I was just a rubber lower radiator hose. Unfortunately, we watched the last three or four laps."
Brady hopes to find a midget race for this weekend. "We're headed to Granite City to run during the Gold Crown Midget Nationals," he says. "We're just running the sprint car, because I don't have a midget ride lined up. I'll be bringing my seat along, and I'm hoping I can find a ride."
Follow Brady on his Website, Twitter and Facebook!
Follow Brady at his website located at www.BradyBaconRacing.com! Also keep up with him on Facebook and Twitter (which also can be accessed at the website) at the following links…
Twitter Link – http://twitter.com/BradyBacon
Facebook Link - www.facebook.com/pages/Brady-Bacon-Racing/278125555137
Partner of the Week – Oilfield Equipment and Manufacturing
Oilfield Equipment and Manufacturing, headquartered in Shawnee, Oklahoma, specializes in quality oilfield services, drilling and steeping. Give them a call today at 405 275-4500!
Brady's Releases
If you would like to receive Brady's weekly releases, send an e-mail to sprntcar@hotmail.com with the subject "Brady".
Brady Bacon Racing would like the following sponsors for all their help: Fatheadz Eyewear, Oilfield Equipment and Manufacturing, Tel-Star Communications, PPM Titanium Products, Triple X Race Co., Keizer Aluminum Wheels, Smiley's Racing Products, Wesmar Racing Engines, Butlerbuilt Seats, Hoosier Tire Southwest, Diversified Machine Inc., Brown and Miller Racing Solutions, Lightning Wings, Simpson, Pro Pan, CP Pistons, Carrillo Rods, KSE Steering, King Racing, Schroth Racing, TI22 Performance, FSR Radiators, Three-wide Clothing, Fuel Safe and Colonial Fiberglass.
Photo - Attached: Brady at Bloomington earlier this year (www.manvelmotorsports.com)
---
Article Credit: Bill W
Submitted By: Admin Account
Back to News